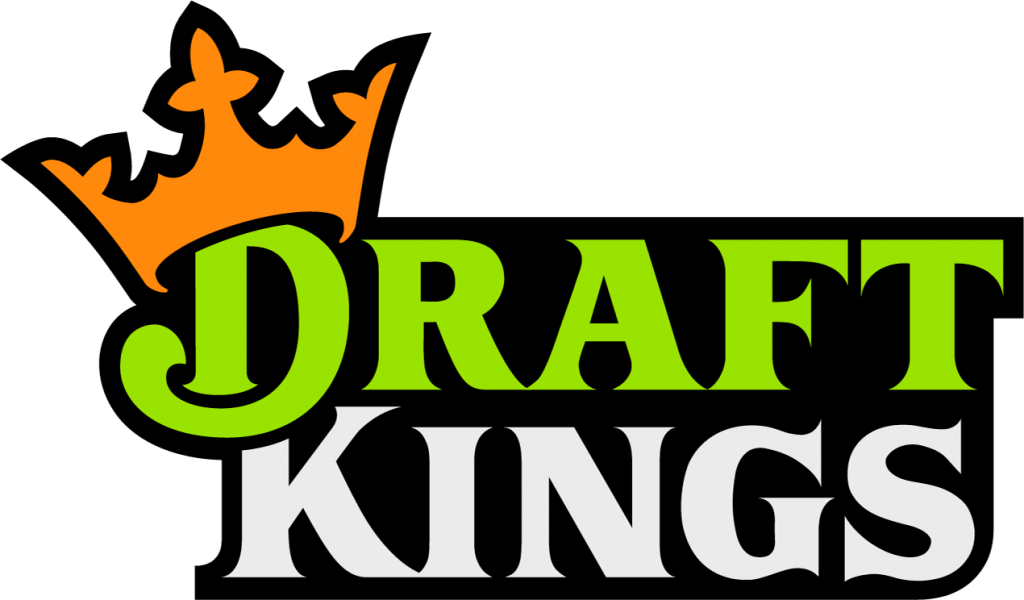 DraftKings DFS Michigan Review
Published: Nov 9, 2020
Updated: Jun 7, 2022
Up to $500
Screenshots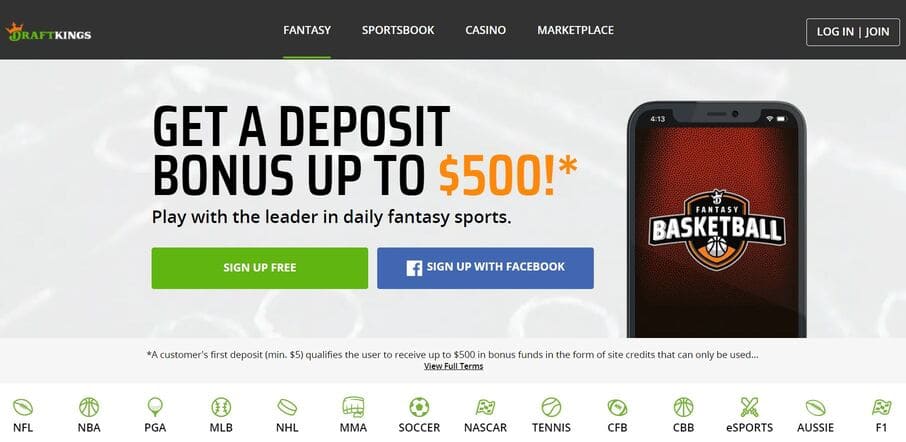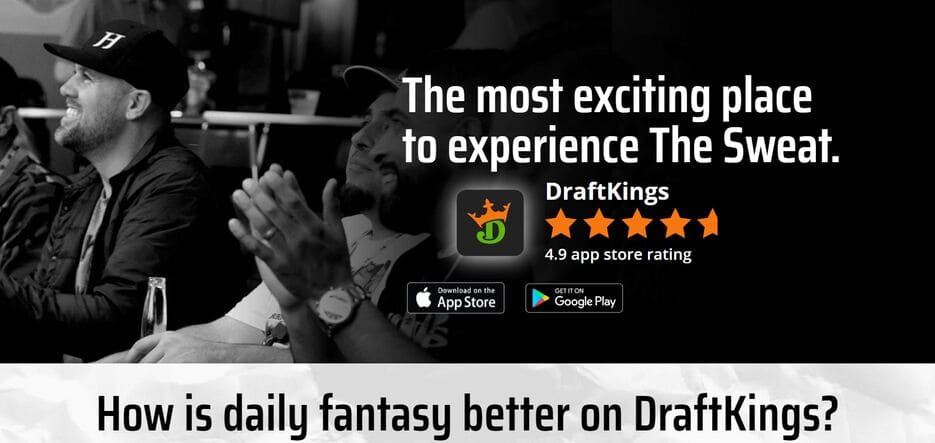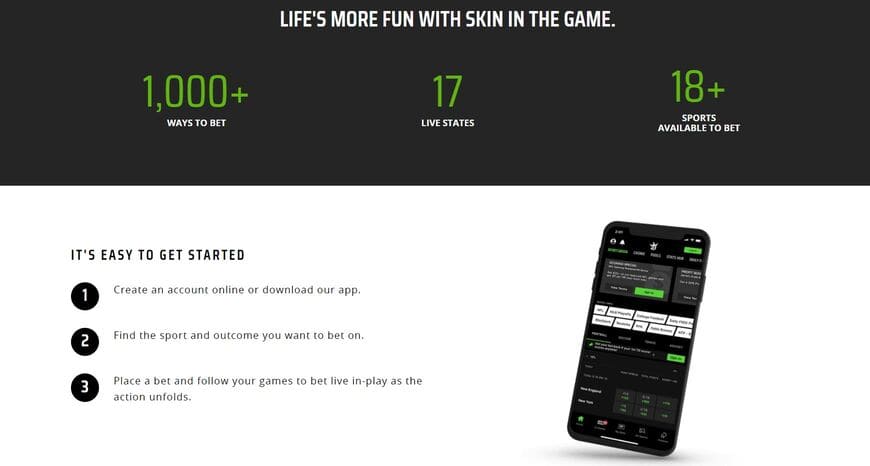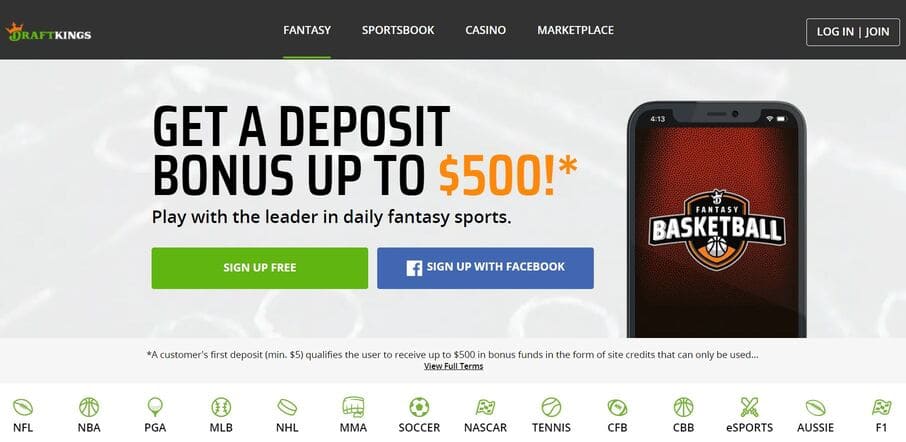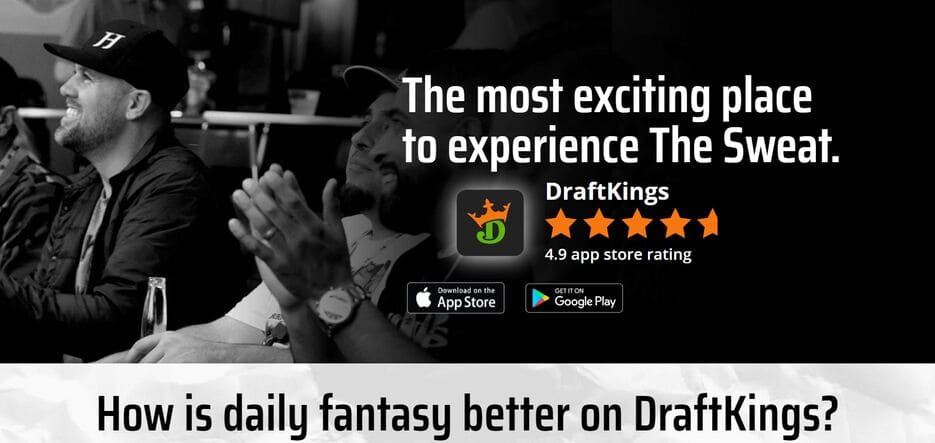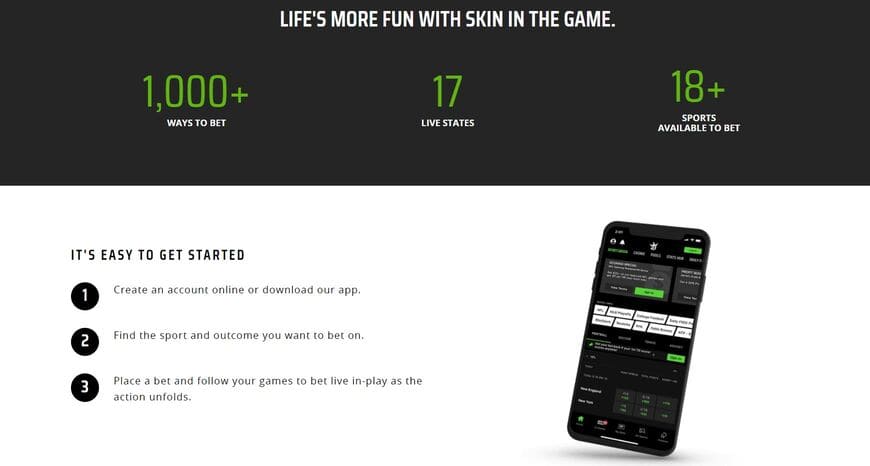 DraftKings is one of the top DFS betting sites in Michigan. They made their way into Daily Fantasy Sport in 2012. Residents of Michigan are amazed to have them in operation in the state. For a while, Michigan has been one of the next wave states to permit US betting. Hence, the presence of DraftKings is a breakthrough for punters in the state of Michigan.
Currently, both the mobile and retail sports betting are legal in Michigan. However, mobile sports betting isn't live at the moment. Daily Fantasy sports betting is completely welcomed in the state. In 2015, there was an attempt to shut down DFS betting, but that was unsuccessful.  This Michigan DraftKings DFS review will show you how to play on DraftKings in Michigan, their loyalty programs, and more.
Process of Playing on DFS Sites Like DraftKings in Michigan
Playing on DFS sites is straightforward. However, it can get complicated at certain moments when using MI online sportsbooks for DFS bets. DraftKings hosts a variety of contests, including those with extraordinary payouts. Many tournaments are available on the platform.
For instance, the millionaire maker gives prizes up to $3 million, including the $1 for first place. Bettors that want a more enormous payday at lower odds can enjoy large-field tournaments like Guaranteed Prize Pools (GPPs).
How is scoring in the DraftKings sportsbook? The system of scoring is a full point per reception, with 4/6 touchdowns and 25/10 yardage. Between the yardage bonuses and PPR, players can put up massive point totals without scoring touchdowns. The DraftKings scoring system encourages volume hunting over TD hunting.
DraftKings DFS Betting Bonuses and Promotions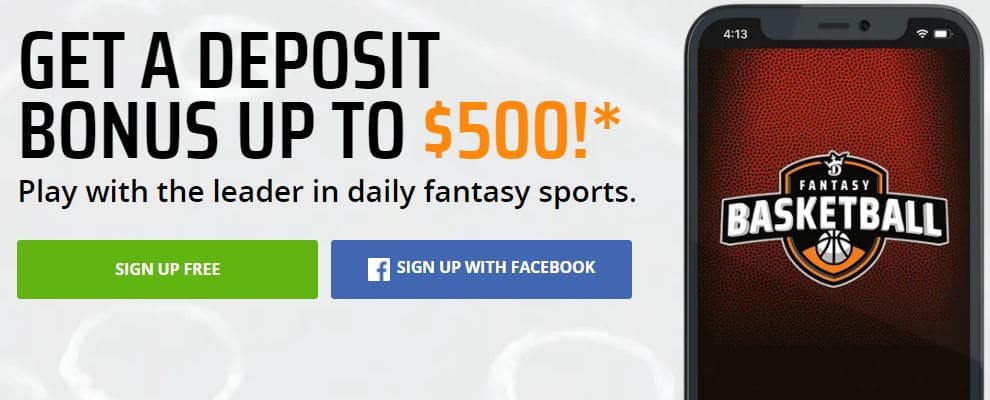 MI DraftKings bonus offers are amazing. DFS hasn't been more exciting with what the platform provides to punters. On the site, you can enjoy a $520 total bonus offer with many additional special offers. Let's break down the bonus that adds up to $520.
The first and most typical one is the $20 free play on the first deposit. Another one of the bonus offers is the 20% free play on the first deposit bonus. All of these rewards are amazing for new punters. Please note that bonus codes are not needed. Even without a DraftKings DFS promo code, you can enjoy the available bonus offers. Once you meet the bonus requirements, you will get all the stated benefits of the promotion.
DraftKings Mobile Wagering Loyalty Programs & Special Offers
Aside from the bonus offers, there are loyalty programs, and other special promotions present on DraftKings as well. These don't need promo codes DraftKings DFS in Michigan provides. They are entirely different from the typical bonuses and promotions.
We can't understate the importance of special offers or loyalty programs. They are crucial rewards for old punters. DraftKings buys into the idea of a loyalty program and special offers. On the platform, there is a daily rewards status tier and other available programs as well. Here's how the daily rewards status tier works: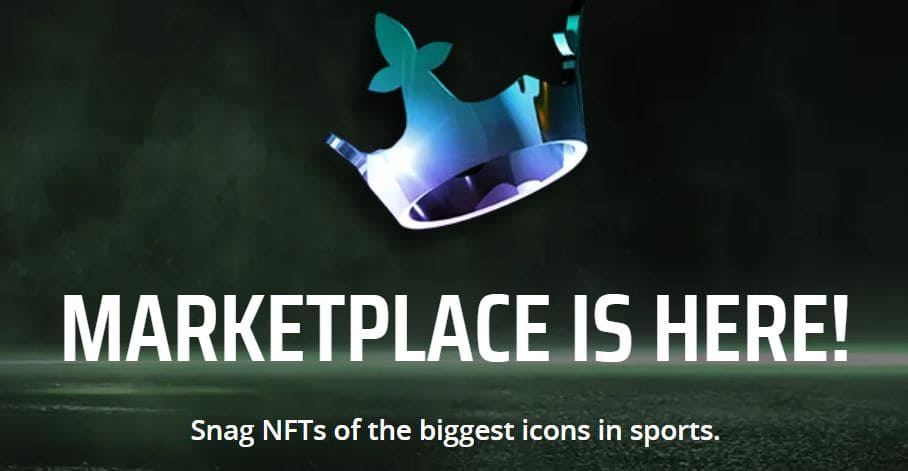 Black: 125,000 crowns per month
Diamond: 25,000 crowns per month
Platinum: 10,000 crowns per month
Gold: 2,000 crowns per month
Silver: 500 crowns per month
Bronze:100 crowns per month
So many rewards are present in the DraftKings sportsbook to enjoy. When you complete a DraftKings contest and getting experience points can prove helpful. Players reach higher levels to gain badges. Aside from these offers, there are other additional ones, including the MLB achievements program.
Sport Challenges Present on DraftKings Daily Fantasy Sports in Michigan
Utilizing DraftKings in Michigan is closely similar to other sportsbooks. As a bettor, there are many sports you can enjoy on the platform. One of the best advantages of this sport is the availability of different options for bettors. Here are some of the leading sports to try out:
National Football League (NFL): The traditional football lineup possesses 1QB, 2RB, 3WR, 1TE, 1FLEX, and 1DST. Besides, the league runs through preseason, regular season, and at the end of season championship. In getting the best out of this league, you may need to utilize tools like the NFL line movement and point totals. Late swap is not allowed on the platform. Ensure that you always stay up to date with injury news as well.
National Basketball Association (NBA): For the NBA, the lineup traditionally consists of PG, SG, SF, PF, C, G, F, UTIL. Like the DraftKings NFL, the NBA also runs through preseason, regular, and end of the season. Players get bonuses for three-point shots made, including double-doubles and triple-doubles, which helps create a good lineup.
Major League Basketball: Every team picked on DraftKings has a ten-man roster that consists of 2P, 1C, 1BDH, 2B, 3B, SS, and 2OF. Before you engage in any strategy or technique in Baseball, you need to know that there is a degree of volatility in the game. Besides, it's crucial to consider specific points before picking a hitter. Some of the things to keep in mind is the WOBA (Weight on Base Average), BABIP (Batting Average of Balls in Play), and the Ground ball, Line Drive, and Fly ball percentage.
National Hockey League: NHL roster consists of nine players. They include 3W, 2C, 2D, UTIL, and G. When playing on DraftKings, there are certain things you need to comprehend. Stacking is a crucial and effective technique that leads to a win. If you're playing with ownership teams, you may need to avoid higher ownership teams. For instance, you can bank on teams like Pittsburgh and Dallas to be high owned.
Golf: For this game, DraftKings offers you six different spots in a salary cap. It's similar to salary cap-based contests. Interestingly, Golf has more in-depth scoring, and it has become one of the traditional fantasy sports. You can move across the whole four days, and it's scored on per hole production, streaks, and tournament finishes.
NASCAR: For DraftKings DFS NASCAR, you should try not to focus on minimum salary drivers. They typically begin near the back of the pack and don't move up. If they start higher, the minimum salary drivers will logically drop in the order quickly. Currently, Kyle Busch is the highest-priced driver in DraftKings.
Mixed Martial Arts: The MMA events include the Women's Bantamweight, Welterweight, Lightweight, and other significant fights.  New fantasy MMA are usually posted weekly. As a bettor, you can play against others for free or compete for massive cash prizes. Michigan DraftKings DFS odds are impressive for this contest.
DraftKings DFS Contest Choices Present in Michigan
There are many contest types that DraftKings provides in Michigan. For contests, the entry fee ranges from $0 to over $1,000 per entry. Here are the contest choices available:
Guaranteed Prize Pool: As a punter, you will pay a specific entry fee to compete for a prize pool share. It's safe to say that the guaranteed prize pool provides the largest prize pools and payouts on a DFS site. DraftKings adds money to the prize pool to guarantee if the number of entries isn't reached.
Leagues: Contests that typically draw participants from three to a hundred are called leagues. On DraftKings, there are public and private leagues available for bettors. In most cases, league contests provide small prize pools.
50/50 or Double-Up: For this contest, half of the prize pool doubles your money. In 50/50, exactly half of those that enter will get double their money. However, for Double-Ups, everyone that crashes will get twice their buy-in.
Head-to-Head: In this contest, two contestants pit against each other. Hence, the player with the highest-scoring lineup wins the whole price pool. Buy-ins for these contests range from $1 to $10,600. Due to traffic, there are always games available to join at each buy-in level.
Qualifiers/Satellites: As a bettor, you can see satellites or qualifiers as contests that feed into a more massive contest. In some cases, players may prefer the satellite contest with a lesser buy-in when one doesn't want to buy in to the main event due to cost.
Multipliers: A particular percent of those with the highest score will receive a multiple of their buy-in. It's similar to the Double-Up contest; however, this one has higher multiples. At DraftKings, they provide multipliers of 3x, 5x, 10x, and as high as 40x the buy-in.
FreeRoll: For this contest, there's no need to spend any money to enter. Interestingly, this contest still gives away cash prices. It's a common contest type that most bettors love to utilize.
Beginner:  These contests are meant for the less experienced players in DraftKings. Anyone who has played less than 50 contests has access to the beginner contests. They are solely meant for beginners only.
Step Tournaments: Qualifiers and step tournaments are closely related. It deals with the player's attempt to win a voucher or various vouchers into a more massive tournament.
DraftKings DFS Mobile App in Michigan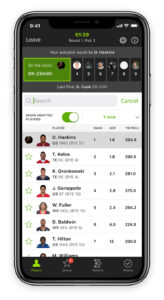 In DFS, a mobile app is crucial. It's rare to see players use their desktops. With mobile apps, DraftKings DFS betting is easier. The MI DraftKings DFS Android app and iOS app is available, many players can access it and enjoy their Daily Fantasy Sports offerings.
Players can visit DraftKings DFS directly in Michigan or use the downloadable app. Please note that you need to download the Android app directly on their website, as Google doesn't permit it. Navigation is easy and straightforward. The Michigan DraftKings DFS app is also highly responsive and has a magnificent user interface.
Michigan DraftKings DFS Banking & Withdrawal Methods
Players can enjoy a list of deposits and payout options on DraftKings. There are several options for account funding available on the website. New accounts will have lower deposit limits. However, the platform can raise the limit if you want something higher. In the process of increment, you will need to provide your driver's license, state ID, and a utility bill within the past two months. Here are the payment methods available on the site:
Deposits
Visa card
MasterCard
AMEX
Discover
PayPal
Visa, MasterCard, or AMEX Gift cards
Withdrawals
Michigan DraftKings DFS Customer Support
The live chat feature is one of the significant customer support options available on the website. As a player, you can get an agent within three to four minutes to attend to your concerns. Aside from the live chat, there are other available customer support techniques. A common one is the use of email. You can forward your complaints to the site's official email address ([email protected]).
Michigan DraftKings DFS Latest News
Michigan residents continue to have a good taste of Daily Fantasy Sports with DraftKings and other DFS sportsbooks like Yahoo DFS and FanDuel. There are several available contests for both the new and old players at DraftKings. One of the most recent happenings in DraftKings Daily Fantasy Sport is Titans-Steelers' postponement to Week 7. If you play NFL, you should know that this was a very inconvenient change. Meanwhile, Patriots-Chiefs gets moved off the main slate to a later date as well. Bye weeks start at Week 5, moving a couple of more teams off the main slate.
DraftKings Fantasy Sports Betting Review: Conclusion
Daily Fantasy Sports is excellent when playing with DraftKings. Players can enjoy sports challenges like the National Football League, National Basketball Association, Major League Baseball, and more. As a new player, it's best to stick to the sport you comprehend. Besides, there's a list of contests available on the site as well. For starters, you can stick to the beginners' contest. However, if you've been playing for a while, you can go for the GPP, Multiplier, or other available contests. Playing DFS on DraftKings is highly recommended.
FAQs
Is DraftKings legal in Michigan?

Yes, DraftKings is legal in Michigan. However, mobile sports betting is not live at the moment in the state. Fortunately, residents of Michigan can enjoy Daily Fantasy Sports.
Is there an app for DraftKings DFS site?

Yes, DraftKings has an app for its DFS site. The app is downloadable on their main website. Moreover, the app is suitable for both Android and iOS devices.
Can I play for free on DraftKings in Michigan?

Playing for free on DraftKings in Michigan is possible. Ensure you create an account in Michigan to enjoy the benefits of the platform.
How can I withdraw my winnings from DraftKings in Michigan?

To withdraw your winnings, you need to use one of the available payout methods available on their website. Examples include MasterCard, Visa card, Discover card, and more.
Written by: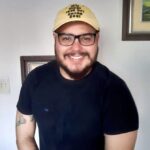 Andy is a skilled recreational gambler for more than 11 years. His primary focus is on the regulated US online casino and poker markets. Editor-In-Chief at Luckymichigan.com.