Michigan DRF Bets Sportsbook Review
Published: Mar 14, 2023
Updated: May 11, 2023
$50 Free Bet
Screenshots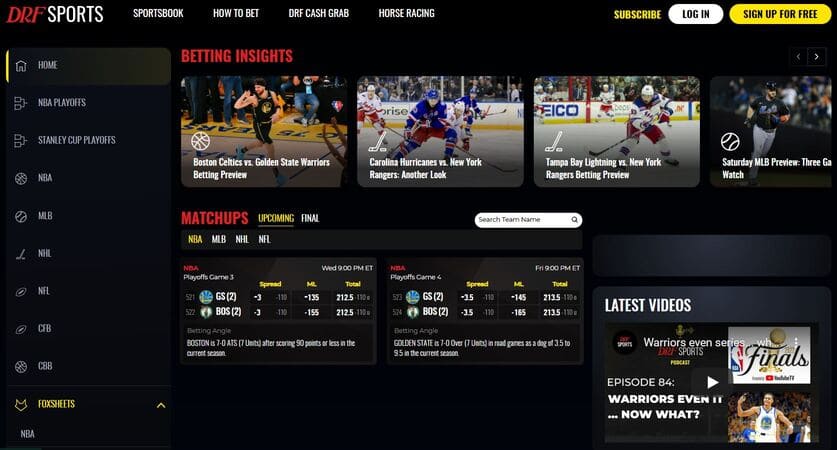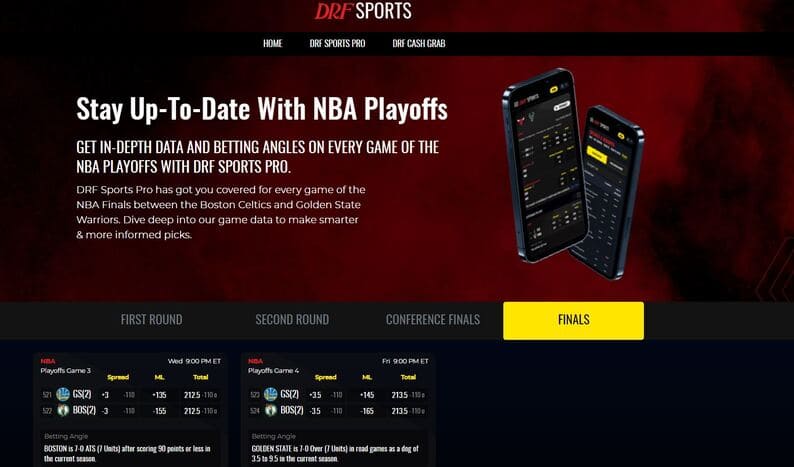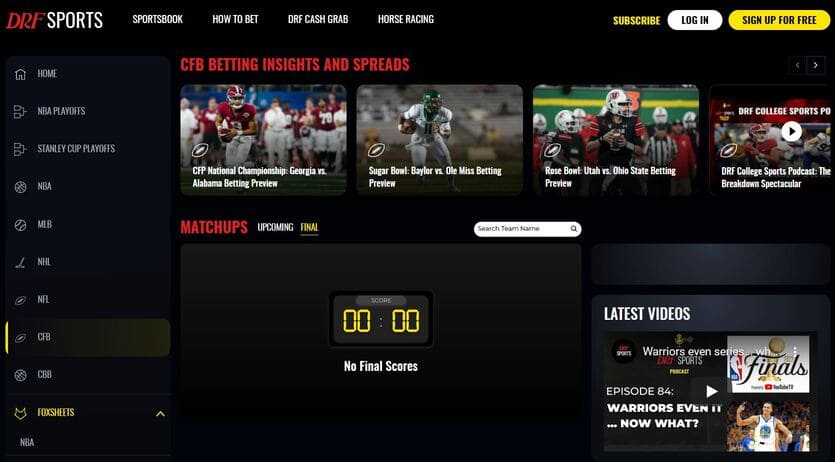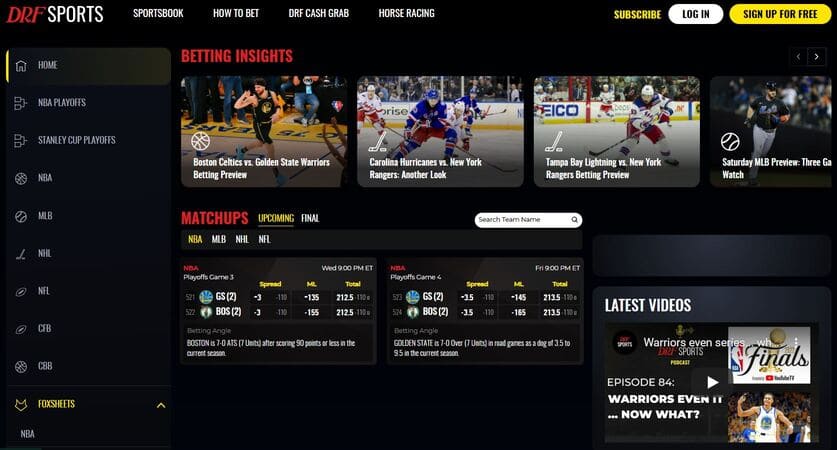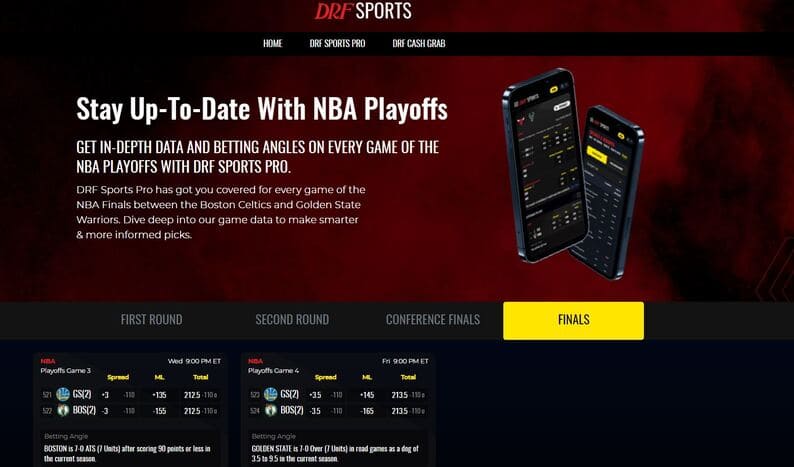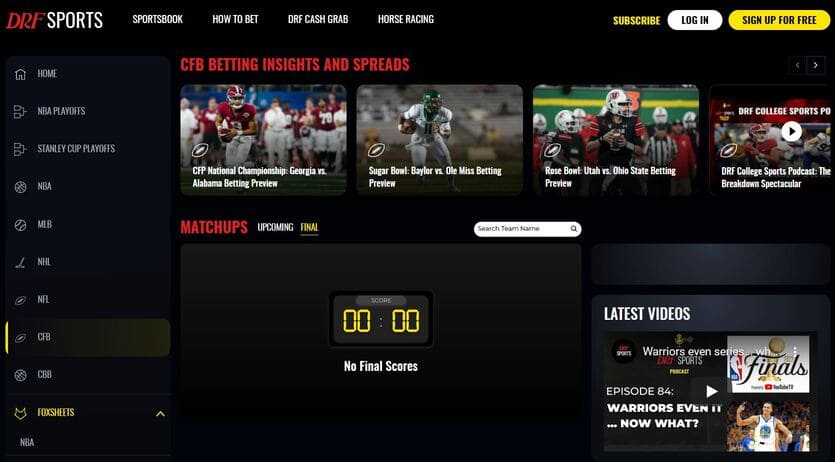 Daily Racing Form is the owner of DRF Bets and is a popular site bringing all the news related to betting online. Launched in 1894, Daily Racing Form is essential and covers every detail about the MI DRF Bets app. The DRF Publication was sold to Moses Annenberg's Triangle Publications in 1992. Soon after some time, it was owned by Walter Annenberg, and presently, the CEO of Daily Racing Form is Itay Fisher, and the owner is Z Capital Partners.
DRF is a tabloid newspaper by Frank Brunell in 1894 in Chicago, Illinois for horse racing bettors in North America. Presently, it's based in New York City and is a remarkable Michigan betting website among fans. Being available for more than 100 years for players, and it provides many important details, which is why the best online betting sites are so reliable and secure. Tens and thousands of players are using DRF Bets, leading to the success of the Daily Racing Form.
Special and exclusive coverage regarding your favorite tracks horses, promo codes DRF Bets, Michigan DRF Bets bonus, etc. are mentioned here. It's better if you can take out some time to go through the DRF Bets review so that you have enough betting information.
DRF Bets Bonus Codes and Promotions
DRF Bets offer newbies bonuses and promo code in the state of Michigan that they can use. The first aspect that you need to do is to collect information about the bonuses and promotions so that you can avail of them. Here is detailed information about the list of new player welcome bonuses.
Free PP
In DRF Bets Michigan online review, we would like to inform the players that DRF Bets comes with a comprehensive past performance program. It refunds all your costs related to PPs for the time you have money on a horse race. A smaller bet like $2 and a premium bet like $25; both will give PPs. A brief introduction regarding the PPs is:
DRF Classic PP: Usually, it is $3.50 with a free wager of $25 and 12 running lines. It has 6 to 12 workouts with Beyer Speed Figures.
Daily Racing Program: Here is a free wager of $2 and normally it's $1.50 with ten running lines and four workouts. Power/ class/ speed and race figures/ and speed ratings are also available.
TimeformUS PP: It comes with a free wager of $5 with workout history and lifetime running lines, pace projector, etc.
Equibase Basic PP: PP data is like a printed program with a $2 wager and equibase class ratings, pace figures, equibase speed, first-time gelding info, and results in charts.
Through your account, you can purchase the program and place a bet accordingly.
No Deposit Required
While you sign up for mobile betting accounts, do not forget to use the DRF Bets Promo code FREEBET. As soon as you do, you will see there is a drop of $50 within two working days in your account. Additionally, it's a free bet, so you cannot withdraw it in any case. Therefore, you also do not need to deposit while claiming this bet. After you get a risk-free first bet, you also get a $150 additional free bet, but for that, you need to meet the requirements of the races. They are:
$50 Free Bet: There is no requirement, and you can sign up easily with the promo code FREEBET.
Second $50 Free Bet: With the first seven days of signing up, place your second $50 bet.
Third $50 Free Bet: After signing up, place your wager within the second seven-day time of $50.
Final $50 Free Bet: From the time you sign up, place $50 within the third seven days.
Most importantly, players must know that they should claim the welcome bonus offers in order.
Cashback Rewards

DRF Bets is known to offer the best welcome bonus to its players. In this Michigan DRF Bets review, we would like you to know about the cashback rewards. The DRF Bets Android app cashback rewards program provides players with DRF store credit with 5% cashback. It opens at level one with bettors qualifying for PP refunds. If you can breach $1000 in an entire month, automatically, the reward for race bets increases from $20 to $100. Reaching $1000 will give you an opportunity to receive 1.5 to 5% cashback on the present PP plan. For wagering anything, you will get PPs with the bets.
In a month, if you bet $1000, you get 1.5% cashback with a $20 DRF credit store.
For wagering more than $2000 in a month, get 1.5% cashback and a $40 DRF credit score.
For $3000+, you get $60 and 1.5% cashback, and for 4000+, you can get $80 and 1.5% cashback.
Similarly, for $5000, earn $100 with 1.5% cashback, and for $8000+, you get more than 5% cashback with $100 credit.
DRF Bets Horse Betting Types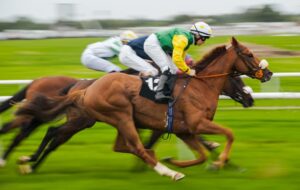 Racebooks offer a variety of odds for each race to bet on. Every odd is different, and to start betting; you need to visit DRF Bets directly in Michigan. Before everything, take a look at the horse races that are conducted across the world.
Jump Racing
For MI DRF Bets racebook odds, know the type of racing first. This racing is also known as hunt racing, and the horses need to cross an obstacle. It is contested for longer distances and must be at least two miles. The jump races include The Grand National, Cheltenham Festival, Nakayama Grand Jump, Queen Mother Chase, The World Hurdle, etc.
Thoroughbred Racing
In this horse racing, jockeys are there with their horses, and they need to cover a distance between 5/8 to 1 ½ miles. It is known to be the common form of horse racing and runs on grass or dirt tracks.
Harness Racing
In harness racing, horses need to pull carts with sulkies or bikes, guided by drivers. It is mostly contested on dirt tracks and takes place for longer or shorter distances.
Horse Racing Bet Types

In these betting bookmaker reviews, we would disclose all the high-limit wagers and the lower-limit. Thus, when you play on the betting apps, you can place them appropriately.
Win
A win is the most popular live betting type, and players need to select a horse that can finish first in the race. Backing a horse that can win is easier to choose if you have watched the previous matches. The performance of the horses can help decide who can win. If you select the right horse, you will get maximum outlays.
Place
It is another betting style offered by the US racebook where you need to pick a horse that can finish in any of the top three positions. Compared to winning, the place is less risky, and the payout is also less. If you are opting for this bet, ensure that you have enough information about it. Do not blindly place bets as if you will lose.
Each Way
Each way is a simpler bet where you are placing an equal amount of odds on a horse for place and win. If you win, you get both the dividends of place and win. If the horse that you have selected finishes either second or third, you will get entitlement of only place.
Exotic Bet Types
Exotic bet types are more complicated, but they have higher betting limits. It's worth placing your bet on them as you can win more. Here are some of the exotic bet types, and they are:
Exacta
When a player selects quinella, he needs to choose two horses that are going to finish in the top two positions, respectively. In case the horses win but not in the same manner, you lose. Thus, ensure that the DRF Bets' true odds offer higher payouts, so you must be correct.
Quinella
Similar to an exacta, but here you do not need to specify the order. You only need to pick up two horses that have a probability of winning in the two positions. It's easier than exacta, and the payout reduces as it's less risky.
Duet
It is different from exacta and quinella and chose two horses that can compete in any of the first three positions. It can be 1st and 2nd, 1st, and 3rd, or 2nd and 3rd. As the winning chances are more so the dividends are lesser and to place this bet, there need to be at least eight horses.
Trifecta
It is famous for exotics, and players need to select the first three horses in the same order to complete in the top three positions. The legal race betting sites offer DRF Bets rewards, and six possible winning combinations are available.
First 4
It is similar to trifecta and here you need to select four horses going to win in the exact order. Around 24 combinations are available and cost 100% of the dividends.
Running double
In running doubles, a player needs to select the winner for consecutive matches at a particular meeting.
Daily double
In the DRF Bets race betting in Michigan, you need to select the winner of two games. Usually, these races are the final and the third race, including the features of the race meeting.
DRF Bets App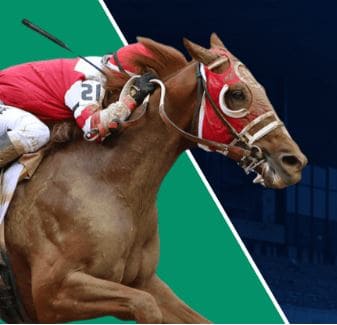 In Michigan, DRF betting also has a mobile app through which players can place their bets. It's available for both Android and iOS users, and the mobile racebook operator has designed it pretty well. The graphic design of the in-game live betting offers a mobile-friendly interface so that players can navigate without any difficulty. The offers, bonus code, first real money bet, DRF Bets promo code, DRF Bets state restrictions are similar to the web format. Therefore, you will not face any issues while playing on the app.
The signup process for the online casino is convenient, but you need to have a valid email id and a DRF Bets horse racing phone number. Additionally, you must be at least 21 years to place the bet on horse racing.
Banking Options

Many people get completely involved in the DRF Bets gift card, promo code, offers, welcome bonuses, which is why they do not remember about the banking section. The DRF Bets has various payment and withdrawal options through which you make transactions. Starting from PayPal, MasterCard, Visa, credit cards, ACH transfer, PayNearMe, Green Dot, etc. are there. Well, the amount of time required to transact the money may vary with the limit. Every specific method has a certain deposit limit and charges a transaction fee. Make sure that you visit the gaming software site before making a transaction.
DRF Bets Customer Service
The DRF Bets customer service is another aspect that you must know. In case of any issue, you can send an email to [email protected]. They do not have live chat and phone services, and that's why; at times, it might take some time to reply. Remember that they are available only during business hours, so if you are mailing at odd hours, you need to wait for their reply.
How to Choose Winning Horses?
When it comes to picking winning horses, of course, it's not easy that you can do it in just a few minutes. Do not decide based on what your friend is doing as there is a high chance of losing. Here are some ways that can help you place correct bets on proper horses.
Video of Past Races
The videos of past races offer an indication of the horse performances. Even though they may not be 100% correct, they can play an integral role. It's always better to at least go through a few previous match videos to have some clue before deciding. At times, your decision might change after seeing the video.
Past Performances
Check out how horses have performed in the previous matches as it indicates how well they are prepared or trained. The past performances will give you an idea if the horse can give you a return.
Pedigree
In horse racing, pedigree is a valuable thing, and knowing how the horse's parents have performed can help you get an indication. Some breeding horses are also there who have turned out to be great performers.
Class
Many horse bettors get caught up with the result of the horse in terms of shows, win, and places. But the caliber of the horse is also essential to know as it helps to perform better.
Human connections
Irrespective of whether you are talking about drivers in harness racing or jockeys in thoroughbreds, the person out on the track has a lot more to do with the horses. The way that can connect with the horse can also play a huge role in deciding if you will win the wager.
Latest News
While signing up, enter the promo code of DRF Bets DOUBLE and win $50. It's a new promo code that gives you a 100% bonus. Also, there are many things that you will get to know once you sign up.
It's Time to Play on DRF Bets
Online betting websites are launched to attract players to place bets and win more. DRF Bets is a great representative in this field along with Xpressbet and Amwager online racebook. Winning wagers is not easy, but if you try, you can win. This DRF Bets online review has included everything that will help you place your bets. Initially, making a decision might seem challenging to you, but once you have the performance information of the bets, you can go for it. Try betting on the best horse racebook, DRF Bets, you will love to play again and again.
Frequently Asked Questions
Is DRF Bets online racebook legal in Michigan?

Yes, DRF Bets is an online racebook legal in Michigan.
How old should I be to bet on horse races in Michigan?

You need to be at least 21 years to bet on horse races in Michigan.
Is there an Android app on DRF Bets?

Yes, there is an Android app on DRF Bets.
What is superfecta?

Superfecta is a wager where you need to choose four horses in the correct sequence to win.
How can I check odds on DRF Bets?

Visit the DRF Bets website to know about the odds.
Written by: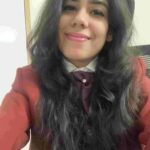 Divya is a content research and analytics enthusiast who loves curating premium content in a diverse niche. Particularly adept in creating gambling and betting reviews to offer our users the best gambling guides in the US.