Review on Monkey Knife Fight DFS in Michigan
Published: Mar 14, 2023
Updated: May 11, 2023
100% up to $50
Screenshots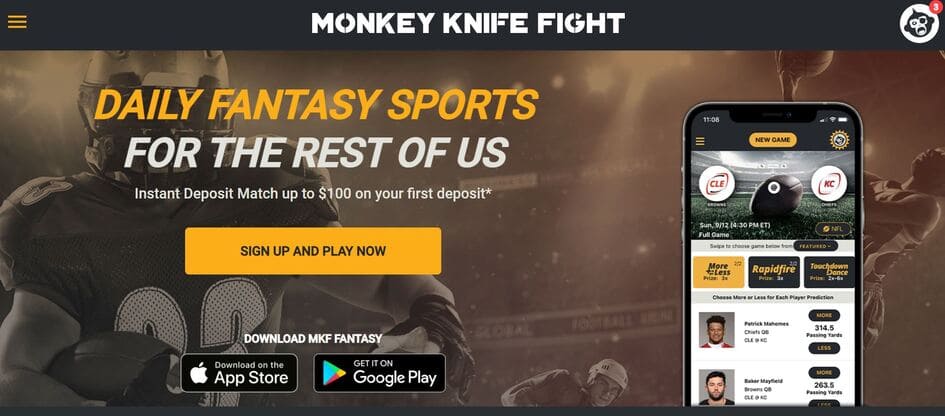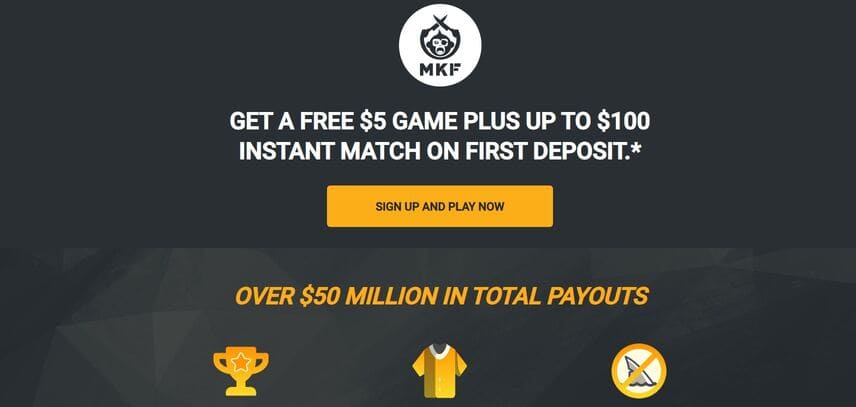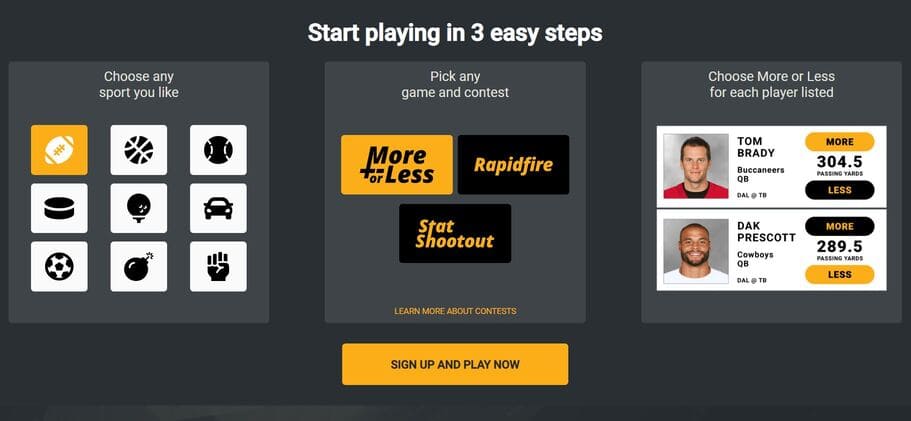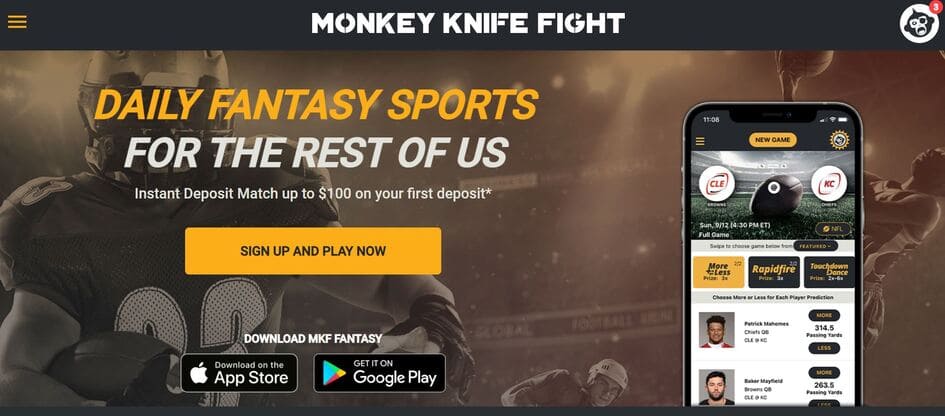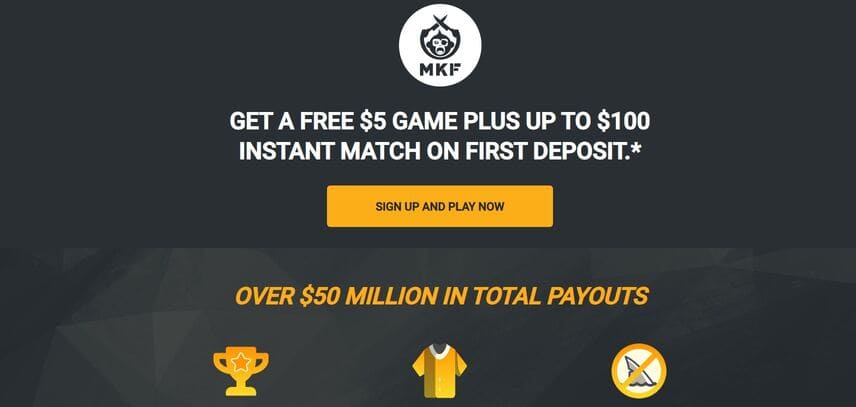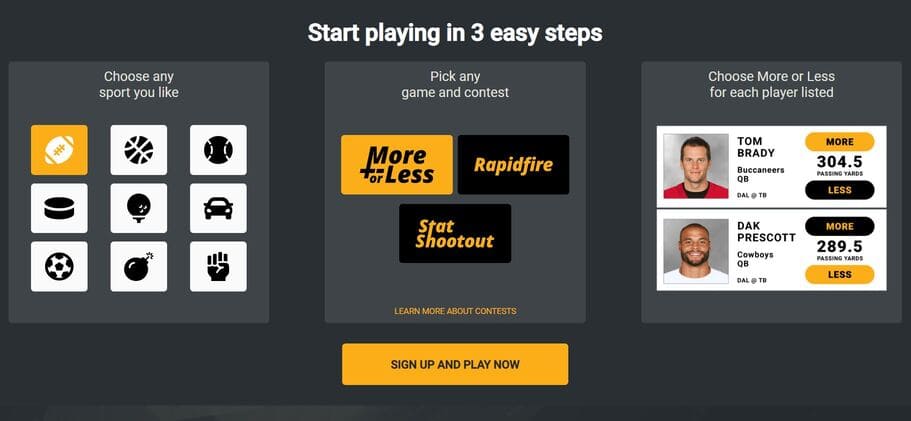 In the previous few years, various US states have changed their laws regarding online gambling. Michigan is one such state that legalized betting on online platforms in December 2019. Since then, the place has shown a considerable rise in the number of people wagering on domains like sports, casinos, and fantasy sports. Out of all available betting sites, the name that instantly became popular in the state is Monkey Knife Fight.
Officially launched in 2018, Monkey Knife Fight is an online betting platform that allows users to place wagers on daily fantasy sports (DFS). Despite being young in the market, this website has managed to gain the love and trust that many old sites still lack. Its unique game style mixed with the fun of fantasy sports is the primary reason for its recognition.
This is the best DFS site you can try out in the state of Michigan. To know more about how to use it, you can follow this Michigan Monkey Knife Fight Review. We have collected all the information you must be aware of before entering into the DFS betting world. So let's dig into the details.
Understanding Daily Fantasy Sports Betting in Michigan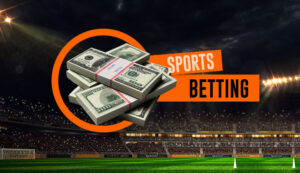 Before moving on to the Monkey Knife Fight, you should first understand the concept of daily fantasy sports that are represented in Michigan by such giants as DraftKings DFS and FanDuel. DFS isn't much different from the conventional fantasy sports that you may have explored with your friends. The only difference in DFS is that it is played on a daily basis, instead of season-long betting. Therefore, it is comparatively more convenient.
You begin playing it with a specific amount provided by the wagering platform. With the help of that, you need to create a lineup of players. These players are selected from the given list based on their stats, salary caps, and preferences. You can't pick only the top names due to limited funds.
Once done with the selection process, you will have to participate in one of the available contests. If your players outstand the competitor's players, you win the bet. Otherwise, you lose money. The factor that makes DFS exciting is its real-time scoring. You get the scores according to how your chosen professionals perform in real-time. Though it hasn't been long since Michigan legalized DFS betting, yet it holds one of the largest markets.
Promo Code on Monkey Knife Fight Daily Fantasy Sports in Michigan
Now that you know how to play DFS, let's move on to the Monkey Knife Fight MI betting site details. The platform welcomes you with a 100% first deposit match. Under this benefit, you can avail of up to $50. The bonus can be cashed-out as 4% of your wagering amount. Hence, you need to wager for $1250 to take out the entire $50. This is a high rollover offer compared to other DFS sites.

Apart from this, you can receive free money by referring the platform to your friends as well. Both of you will get $10 each. You don't need any promo codes for these benefits. The site provides you with several such deposit bonuses and promotional offers. You will have to sign-up on the site to know more about Monkey Knife Fight bonuses.
Loyalty Program on Monkey Knife Fight DFS Betting
Monkey Knife Fight doesn't only please its new users but also takes care of the experienced ones. So when you regularly play on the site, you get eligible for earning rewards called the MKF Dollars. These can be gained by participating in promotional contests. Once you collect enough of these dollars, you can use them in place of real money to enter competitions.
Usually, MKF announces its special offers through emails or social media platforms. You will have to follow it everywhere to remain updated about any new opportunities for winning money. Only then can you get the most advantage out of the platform.
Monkey Knife Fight Mobile Wagering: Exploring the Available Sports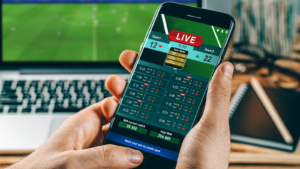 A significant issue with most DFS betting sites is that they offer only a few sports to select from. These sports mostly include the US's top leagues. However, there is no such problem with MKF. You can get a number of sports here, making the experience even more pleasant and exciting. The website offers the following games:
National Football League
You can find NFL fantasy sports on almost all DFS sites. What makes MKF different is its PPR scoring. Here you receive a fantasy point for every reception and return touchdowns get added to the player stats. Along with this, an interception has a turnover of -1, while a fumble stands at -2. All in all, there is more excitement while playing football DFS.
Major League Baseball
MLB is yet another professional league of the US. The scoring for fantasy baseball on MKF is as follows:
Single: 5 Points
Double: 10 Points (so on)
Run, RBI, SB, HBP, Walk: 5 Points
Pitcher (runner allowed): -1 Point
Earned Run: -3
Along with these, pitches also receive bonuses for perfect games, no-hitters, complete games, and shoutouts.
Women's National Basketball Association

WNBA fantasy sport brings up a lot of excitement because MKF offers several opportunities to lose your points. A missed free throw or a missed field goal can cost you -0.25 points. Even the turnovers are kept high at -0.5. On the other hand, you also get a chance to gain two points from every block and steals. There are some bonuses, as well, like double-double, three-point, and triple-double.
NASCAR
Not many of the top DFS Betting Sites in MI offer NASCAR as one of their fantasy sports. But not to worry because MKF is at your rescue. You can select your favorite racers and create a lineup with them. Based on their performance during the race, they can make you win huge prizes.
Soccer
You can understand the scoring system of soccer fantasy through these:
Goal: 15
Shot On Goal: 5
Interceptions, Tackles Successful, Shots Blocked: 1.3
Shots Faced Saved: 3
Defender Clean Sheets: 5
Goalkeeper Clean Sheets: 10
Assist: 7
Goalkeeper wins: 7
Goals Conceded: -2.5
Overall, there is an excellent opportunity to win in this sport if your lineup is appropriate.
Golf
PGA tours can also be followed on the site. MKF follows the standard scoring rules for golf fantasy. There are also rapid-fire tournaments that are used for only strokes for or against. In order to win, you should have the lowest score.
League of Legends
Only a few DFS betting sites in MI provide League of Legends as one of the fantasy sports. MKF is one of them. You can enjoy placing bets on your lineup with the following scoring:
Kills: 3
Deaths: -1
Assists: 2
Creep Score: 0.02
Types Of Contests on Monkey Knife Fight
After selecting your favorite sport and creating a lineup, the next step will be to enter a suitable contest. A few standard options available on MKF are:
Over/Under
For every selected player, you need to predict whether they will score over or under the given line. You can win double the amount that you used to buy in.
Rapid Fire
The pay in these contests is the same as over/under bets. However, here you need to predict the series's highest-scoring players. These are usually played on head-to-head matchups.
Reception Connection
Under these, you can choose different players that will get the most receptions and fix their reception numbers. The better receptions they get, the higher your amount goes.
Hail Mary
This one isn't very complicated. The website provides its own set of players in these contests. You have to predict whether they will achieve the given amount of Passing Yard Goals or not.
Rush Hour
It is almost the same as Hail Mary, except for the fact that you need to make a prediction about the players obtaining rushing points.
Go Long
Under this, you need to select the star performers of the game that will go long. Your choice should be based on the player's previous records.
Fantasy Challenge
In these, you are provided with two things: a set of players and their estimated fantasy points. You need to select those professionals that you think will beat their estimated scores.
Monkey Knife Fight App and Mobile Support
In today's world, where nobody has the time to sit in one place, every DFS site must have mobile support. The developers of MKF realized this point and made its website compatible with almost all mobile browsers. So you can play your favorite fantasy sports on the go.
With this, you can use MKF on your smartphones, desktop PCs, and tablets. All you need here is a stable internet connection. Thus, register now and get started.
Banking Methods For Monkey Knife Fight In MI
Making deposits and withdrawals is the most stressful task on any real-money DFS betting platform. But you need not worry about anything on MKF because the process here is quick and straightforward. You can make the desired payments using your debit or credit card. Remember, the minimum amount for deposit shouldn't go below $10, and shouldn't exceed:
$1000 per day
$5000 per week
$10,000 per month
You can make withdrawals through check or PayPal accounts. The minimum amount that can be taken out at once is $20.
Customer Support at Monkey Knife Fight Being new to the platform, you may encounter various problems while playing or transferring money. In order to solve all your queries, the MKF website includes a comprehensive FAQ section. It consists of information on banking, contest rules, and other general issues most new users face.
Apart from this, you can also get in touch with their agents through the provided email. They reply as quickly as possible and try to solve your queries in the best way possible.
Latest News on Monkey Knife Fight
No matter how great, MKF is still a new name in the DFS betting domain. One of the primary reasons why it still lacks an extensive user base is because people aren't aware of its existence. However, this won't go on for longer because the business has now shaken hands with Enthusiast Gaming Holdings for their promotional activities.

Recently, the news of MKF tying knots with AEG for soccer and hockey marketing also came in. The business will be a fantasy sports partner of the LA Galaxy (MLS), LA Kings (NHL), and Ontario Reign (AHL).
Monkey Knife Fight Fantasy Review: Endpoints
It wouldn't be wrong to state that Monkey Knife Fight is one of the best online sportsbooks for DFS bets in Michigan state. The platform offers everything that will be needed from a DFS wagering site. Plus, it has all the proper licenses required to operate in the state legally. You won't have to worry about anything while playing on it. So visit Monkey Knife Fight directly in Michigan, register on it, and begin playing.
Frequently Asked Questions On Monkey Knife Fight
Is Monkey Knife Fight Legal In Michigan?

Yes, the MKF business has obtained all the necessary licenses for legally operating in the state of Michigan. It follows all the rules and regulations according to the law as well.
What Is The Minimum Age Required To Play On Monkey Knife Fight Site In Michigan?

You need to be at least 18-years-old to play on the MKF platform legally. You may also need to provide proof of your age at the time of registration on the site.
Is There An iOS App On Monkey Knife Fight?

No, MKF doesn't offer any mobile apps at this point. However, you may be able to see an application for Android and iOS soon. So you just have to wait for some time.
Can I Play For Free On Monkey Knife Fight In MI?

Yes, you can play for free on MKF using your "free bet" after sign-up. There are also some promotional offers that provide you with free money to play DFS without any investments.
How Can I Withdraw My Winnings From Monkey Knife Fight In Michigan?

The two available options for withdrawals on MKF are check and PayPal. But remember that your withdrawal amount should be a minimum of $20.
Written by: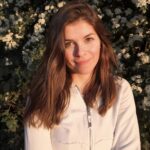 Aria works hard to make sure that residents from different states have access to honest reviews and credible information about the best legal gambling sites. She has a rich experience as a writer, SEO specialist and expert in sports betting. Sports Editor at Luckymichigan.com.