FanDuel Sportsbook Michigan Review in 2023 - Promo Codes
Published: Mar 15, 2023
Updated: Jun 21, 2023
Up to $1000 Risk-Free
Screenshots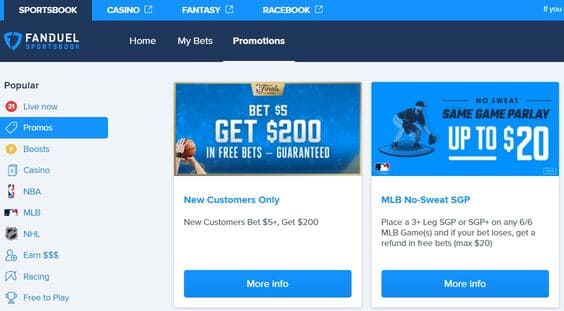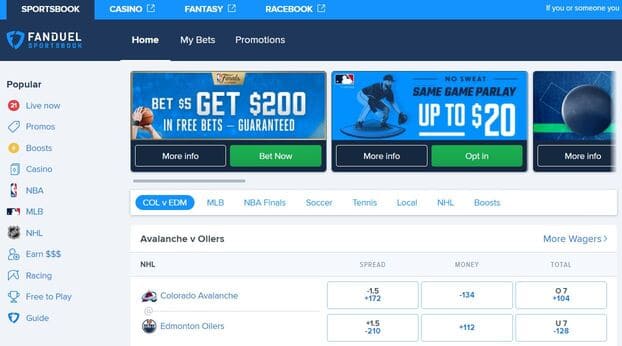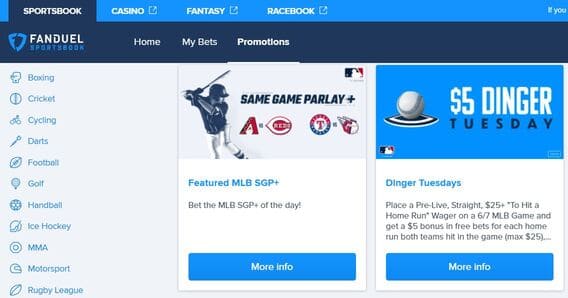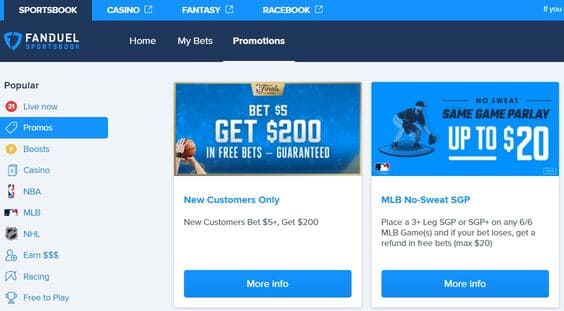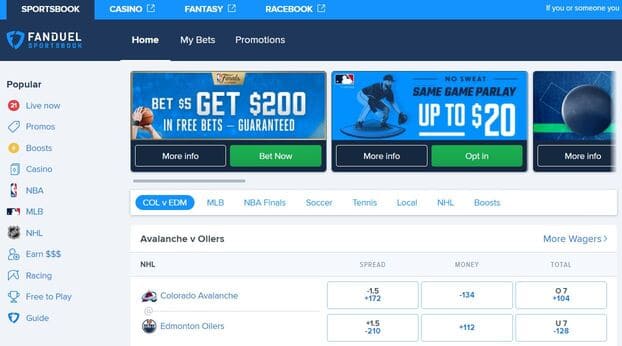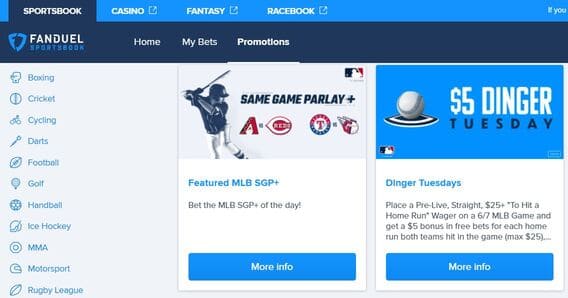 FanDuel Sportsbook is one of the best sportsbooks in Michigan. The platform is part of the FanDuel Group, which has become one of the biggest names in the online gaming industry. FanDuel Sportsbook Michigan is licensed and regulated by the Michigan Gaming Control Board.
One of the primary advantages of using FanDuel Michigan as your online sportsbook is the user-friendly interface that makes it easy to place bets on a wide range of sports markets. The sportsbook covers all major North American sports leagues, including the NFL, NBA, NHL, and MLB, and international sports events such as soccer and rugby.
Aside from the extensive selection of sports markets, FanDuel offers several advantages to its players, including multiple types of wagers, live in-game betting, and a rapid settlement of bets. Furthermore, the brand provides lucrative bonuses and promotions to its users, such as the $1,000 risk-free bet to new customers.
Promo Codes from FanDuel Sportsbook
To receive a welcome bonus from FanDuel online sportsbook, you do not need to use the FanDuel Michigan promo code during registration. Once you register an account and make your first deposit of $10 or more, you will receive up to $1,000 in bonus bets. This bonus can be received if the bet is lost.
FanDuel Welcome Bonus
FanDuel Michigan offers a generous welcome deposit bonus for new users. The welcome bonus gives new customers a $1,000 risk-free bet, meaning players can place their first bet of up to $1,000 without risk. If the first bet loses, the player will receive a refund of the amount wagered up to $1,000.

You do not need to use FanDuel Promo Code Michigan to claim the welcome bonus. New players need to register an account and make the deposit. It's important to note that any refunded bonus money will come in the form of free bets and will expire after seven days if not used. Additionally, only the first bet of up to $1,000 qualifies for the refund offer. The refund will be credited to the player's account within 72 hours of settling the qualifying bet. The $1,000 risk-free bet provides an excellent opportunity for new players to test the platform without any risk.
FanDuel Sportsbook Regular Promotions
FanDuel sportsbook offers a wide range of ongoing promotions designed to provide added value and excitement to the legal sports betting experience. These promotions vary from daily odds boosts to bet insurance and free bets.
Here are some of the regular promotions available at FanDuel Sportsbook Michigan:
Daily Odds Boosts:
FanDuel offers daily odds boosts on selected games and events. These boosts provide higher odds and better payouts on selected markets.
Parlay Insurance:
FanDuel Sportsbook Michigan provides parlay insurance, which offers a refund on parlay bets that narrowly miss out on winning. This promotion applies to parlays with four or more legs and offers up to $25 in refunds.
Free Bets:
The brand provides players with free bets on selected games and events. These free bets are often offered as part of special promotions and can range from $5 to $25.
Refer a Friend Bonus:
FanDuel in Michigan offers a refer-a-friend bonus, which provides players $50 in site credit for each friend they refer who makes a deposit and places a bet.
Unfortunately, the platform currently does not provide a loyalty program for customers. But we are sure that in the future this shortcoming will be corrected and you will be able to receive additional bonuses by obtaining loyalty points.
How to register a FanDuel account in Michigan
Please follow our step-by-step guide to registering a FanDuel account in Michigan: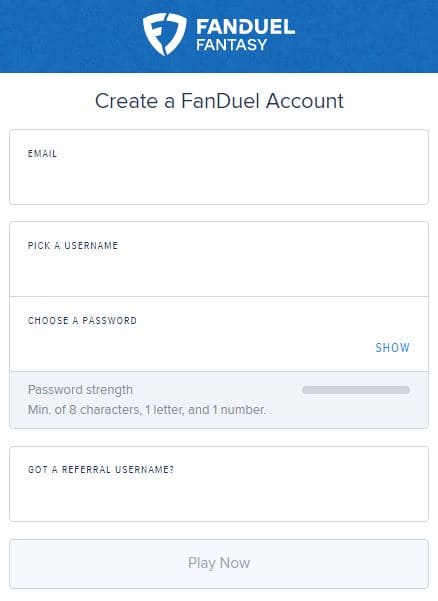 Visit the FanDuel Sportsbook Website.
Click on "Join Now."
Enter your personal information, including your name, date of birth, email address, phone number, and last four digits of your Social Security number.
Choose a username and password.
Enter your residential address, street address, city, and zip code.
Once you have entered your personal information, verify your account. You will be asked to provide a photo ID and a utility bill with your name and address. Once your account is verified, you can begin playing.
Once your account is verified, you can deposit funds into your account using one of several accepted payment methods.
Overall, registering an account with FanDuel Sportsbook in Michigan is a simple process that can be completed within minutes.
FanDuel Sportsbook Application
With the FanDuel sportsbook app you can make bets on the go. With easy access to a wide range of sports markets and betting options, along with the ability to make deposits and withdrawals, the FanDuel app is a great way to enjoy the sports betting experience.
How to Download the Application
Go to the App Store (if you're using an iPhone) or Google Play Store (if you're using an Android device) on your mobile device.
Use the search bar for "FanDuel Sportsbook" and select the FanDuel Sportsbook app.
Click "Download" or "Get" to download and install the app on your mobile device.
Once the app is installed, open it and create an account if you do not have one.
How to Bet in the FanDuel Sportsbook App
Open the FanDuel Michigan app on your mobile device.
Log in to your account using your username and password.
Browse the available sports markets and select the sport and event you wish to bet on.
Choose the type of bet you wish to place, for example, moneyline or point spread.
Enter the amount you wish to wager on the bet.
Review your bet slip and confirm that all information is accurate.
Click on "Place Bet" to confirm your wager.
Pros and Cons of FanDuel site
Below you can find the pros and cons of the FanDuel bookmaker.
| | |
| --- | --- |
| Pros✅ | Cons❌ |
| ✅ User-friendly Interface | ❌ No phone support |
| ✅ Extensive Range of Sports Markets | ❌ Limited live betting |
| ✅ Competitive Odds | ❌ Strict Betting Restrictions |
| ✅ Variety of Bet Types | ❌ No Loyalty Program |
| ✅ Convenient Deposit and Withdrawal Methods | |
Types of bets in FanDuel Michigan
No matter what kind of betting in Michigan you prefer, FanDuel bookmaker will likely help you. Below is a list of the most common sports betting in Michigan.
Moneyline Bets is a straightforward bet on which team will win a game or match.
Point Spread Bet involves betting on a team to win by or lose within a specific margin of points, as determined by the oddsmakers.
Totals (Over/Under) Bets involve betting on whether the total score of a game or match will be over or under a predetermined number set by the oddsmakers.
Futures Bets are long-term bets on the outcome of an event, such as which team will win the Super Bowl or World Series.
Prop Bets are bets on certain events, individual performances, or outcomes within a game or match.
Parlay Bets are wagers that involve multiple bets, in which all bets must win to receive a payout.
Teaser Bets are similar to parlay bets but allow the bettor to adjust the point spread or totals for individual games, usually resulting in lower payouts.
Round Robin Bets is a wager that involves making multiple parlay bets at once, with each parlay comprising a predetermined number of selections.
FanDuel Michigan Sportsbook offers players a wide selection of betting options to cater to various betting preferences. The gambling site has a sports wagering license, meaning you can place bets with full confidence that they will be calculated correctly.
Best odds at FanDuel
FanDuel Michigan bookmaker offers competitive odds on various sports and events. To find the best odds at a bookmaker, it is important to follow the promotions and offers of the platform. FanDuel offers increased odds, bet acceleration, and other special promotions to help you maximize your bets.
In addition, it would be nice to compare the odds at the FanDuel bookmaker with other bookmakers. Several online resources can help you compare odds across bookmakers, such as BetMGM.
Ultimately, the best odds at FanDuel Michigan bookmaker will depend on the specific sports and events you want to bet on and the promotions and offers available at any given time.
Sport events that available for betting at FanDuel in Michigan
FanDuel Sportsbook offers a vast selection of betting markets for Michigan sports bettors. Here are some of the most popular sports available for sports betting in Michigan:
Football: FanDuel offers such betting markets for football as the NFL, NCAA football, and the Canadian Football League (CFL). Players can place bets on traditional bets such as moneyline, point spread, totals, and player props.
Basketball: The brand provides betting markets for basketball leagues worldwide, including the NBA, NCAA basketball, and international leagues like Spain's Liga ACB.
Baseball: you may enjoy betting markets for Major League Baseball (MLB) games. Players can bet on futures betting markets such as World Series, MVP, and betting specials.
Hockey: FanDuel provides betting markets for National Hockey League (NHL) games. Users can place bets on unique markets, such as first-team scoring, first-period winner, and team props.
Soccer: There are both domestic and international soccer betting markets. Also, you may use props, including goalscorer, clean sheets, player specials, and more.
Tennis: Make a bet for Grand Slam tournaments and other tennis events. There are unique markets, such as set betting and player props.
Golf: There are betting markets for PGA and European Tour events, including early and outright betting markets. Users can bet on unique golfing bets such as hole-by-hole betting and top 10/20 finish betting markets.
How to make a bet with FanDuel sportsbook
Please take a look at the step-by-step guide on how to place a bet with FanDuel online sportsbook in Michigan:
Log in to your FanDuel account.
Choose the sport and event.
Select the type of bet.
Enter your wager. FanDuel will display your potential winnings based on your selected odds.
Сlick on "Place Bet" to confirm your bet.
You can watch your bet play out in real time, with FanDuel live updating odds and statistics for the event.
Placing a bet with FanDuel online sportsbook in Michigan is straightforward and streamlined.
Available payment methods at the FanDuel
FanDuel Michigan offers a wide range of payment methods for making transactions. You may use deposit methods, such as Credit and Debit Cards, Online Bank Transfer (ACH eCheck transfer), PayPal, and FanDuel Play+ card.
The brand offers to use Online Bank Transfer, PayPal, and Play+ Prepaid Card for withdrawal of funds.
The processing time for payment methods at FanDuel Sportsbook can vary depending on the method you choose. Deposits with credit/debit cards are usually processed instantly, and withdrawals can take 3-5 business days to process. Transactions via PayPal are usually processed instantly. Deposits made through online banking can take 2-5 business days to process, while withdrawals can take up to 48 hours.  FanDuel's deposits via prepaid card are processed instantly, and withdrawals can take up to 48 hours. Deposits made using PayNearMe are processed instantly.

FanDuel customer support service
If you have questions, we advise you to open the "Help" section at the bottom of the sportsbook, in the footer of the page. You can always use Live Chat and email forms if you can not find the answer. At the bottom of the FAQ, you will find the last two.
Click the Submit Ticket button to compose an email to the support team. Online chat is available by clicking on "Support." By clicking on this button, you will open a chat window. At first, the robot will try to provide you with an answer, but by clicking on the "Contact" button, you will go to a real person.
Responsible gambling measures at FanDuel sportsbook
FanDuel takes responsible gambling seriously and has implemented several measures to ensure its customers enjoy a safe and responsible gambling experience.
FanDuel promotes responsible gambling through its partnership with the National Council on Problem Gambling (NCPG) and the Council on Compulsive Gambling of Michigan (CCGM). These organizations provide resources and support for individuals struggling with gambling addiction.
In addition, FanDuel offers a variety of responsible gambling tools to help customers control their gambling activity. These tools include deposit limits, time limits, the self-exclusion limit, and reality checks. Also, customers can take a gambling questionnaire to help them understand their level of risk and receive recommendations for responsible gambling practices.
If you would like to know more about the best Michigan sportsbooks, do not miss a chance to check our SI sportsbook and Caesars sportsbook reviews.
FAQ
Is the FanDuel platform legal in Michigan?

Yes, FanDuel Sportsbook is legal and regulated in the state of Michigan. FanDuel Sportsbook obtained a license from the Michigan Gaming Control Board (MGCB) to operate in Michigan.
Where is the FanDuel bookmaker located?

The FanDuel retail sportsbook is located at MotorCity Casino in Detroit, Michigan.
Are FanDuel's lines comparable to other sportsbooks in Michigan?

FanDuel Sportsbook's lines in Michigan are generally competitive with other legal and regulated sportsbooks in the state. However, it's important to remember that odds and lines can vary depending on several factors, including the sport, event, and timing of the bet.
What is the best method to deposit on FanDuel in Michigan?

For making a deposit, you may use a credit/debit card, online bank transfer, PayPal, or Play+ prepaid card. The best method for depositing funds into your FanDuel Sportsbook account depends on your preferences and needs.
Are eSports betting available at FanDuel Michigan Sportsbook?

Yes, FanDuel Sportsbook in Michigan offers betting options on various esports events, including League of Legends, Dota 2, CS:GO, Overwatch, and more.
Written by: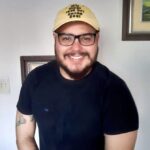 Andy is a skilled recreational gambler for more than 11 years. His primary focus is on the regulated US online casino and poker markets. Editor-In-Chief at Luckymichigan.com.