PointsBet Sportsbook Review in Michigan
Published: Mar 15, 2023
Updated: May 11, 2023
two risk-free bets up to $200
Screenshots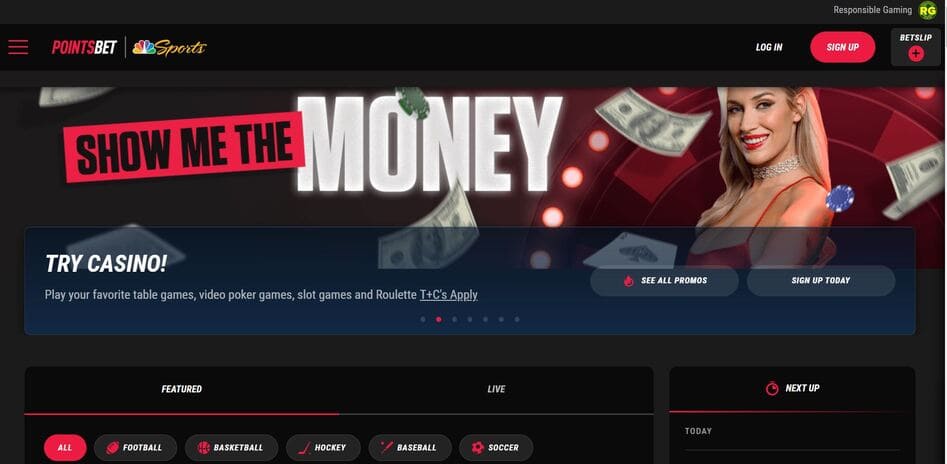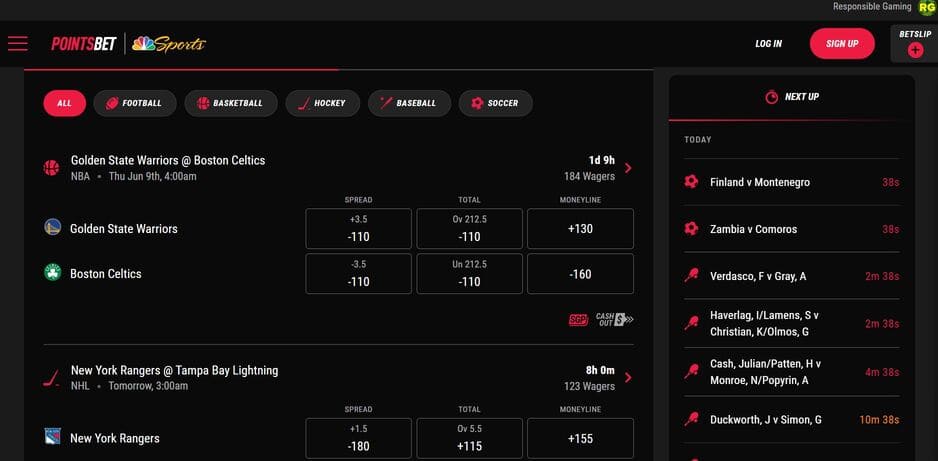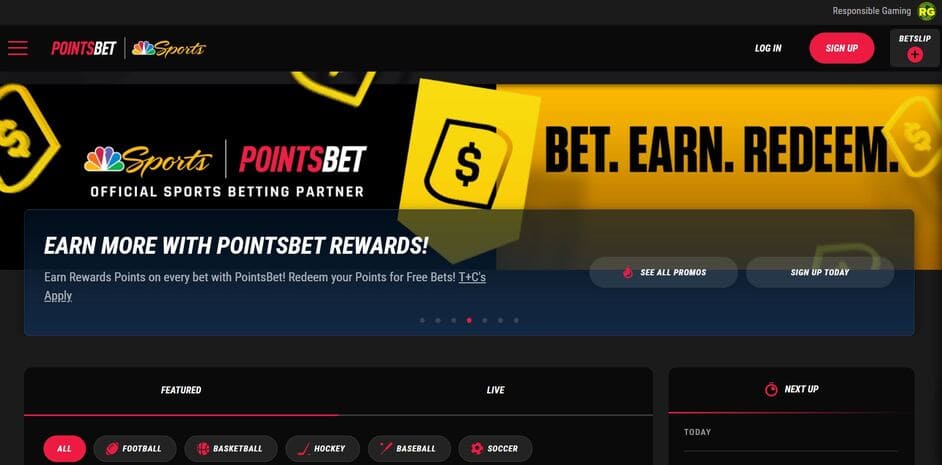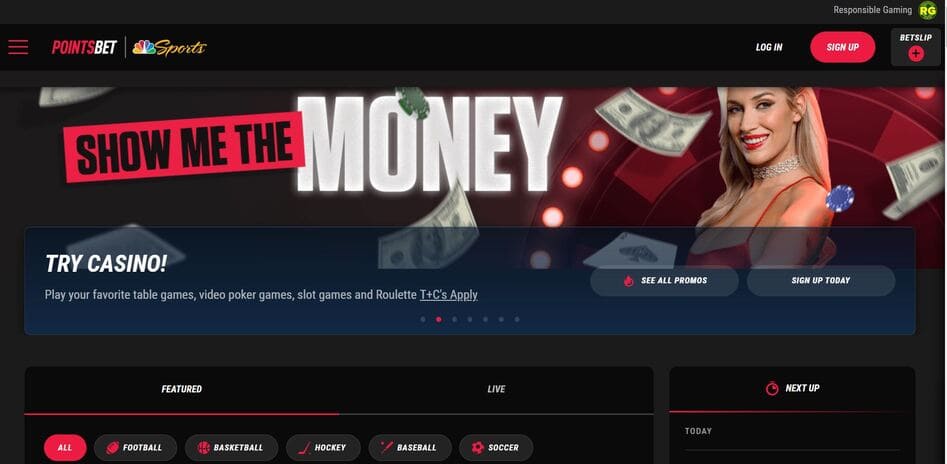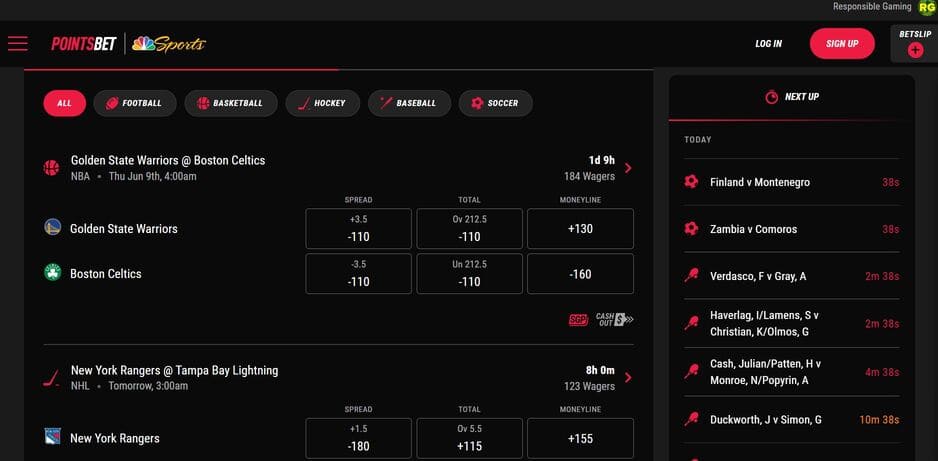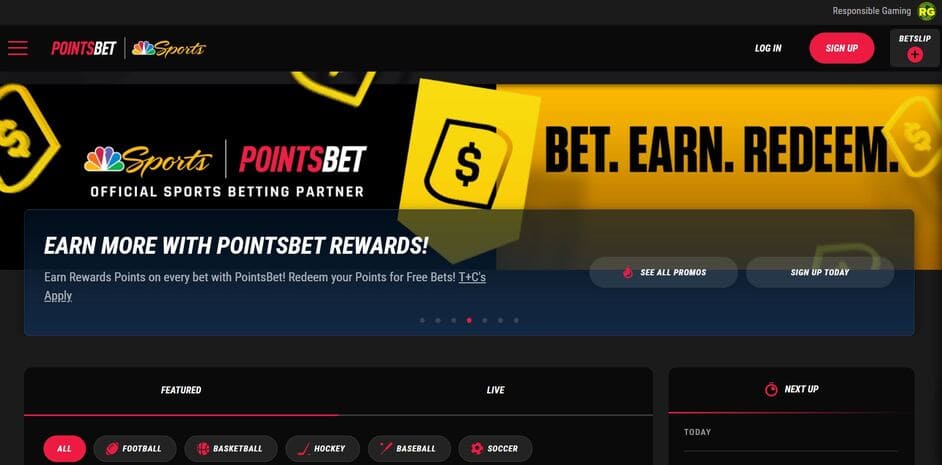 PointsBet launched in January of 2019 and since then has rapidly expanded in popularity to become one of the top US betting sites. The company originally launched in Australia – they established a reputation for having a responsive and user-friendly app. On December 20th Gov. Gretchen Whitmer of Michigan signed legislation allowing sports betting in the state. The Michigan gaming control board also approved the website. Therefore, this sportsbook is now trusted and loved by the users of Michigan.
Sports Available at PointsBet Sportsbook
PointsBet sportsbook betting offers a huge variety of sports to gamble on so it's one of the best sportsbook sites out there. This includes the more mainstream sports such as NFL, NBA, MLB, soccer, golf, Formula1, and UFC. The popularity of these core sports is more than enough to satisfy a punter's betting needs.

However, you can also bet on non-mainstream sports such as table tennis, NASCAR, and MMA. The variety means there is something for everyone to enjoy. You can also wager on futures, which involves trying to predict the outcome of an event – for example, the winner of next year's championship.
Live Betting Online – Get Involved in the Action
Live betting, or in-play as it is called on PointsBet, allows you to place bets as the action is taking place. Therefore, you can watch and based on the play wager on the outcome of the match. The odds during a match change based on how the play is unfolding. PointsBet shows the schedule for upcoming in-play games so you can prepare to tune in at the right time.
Custom Bets – Pointbet Sportbook Betting for the Individual
Customized bets allow you to place the same wager from a shortcut menu. For example, if you like to bet on NBA games and the LA Lakers in particular, then you can set up custom bets to reflect that. Customizing allows you to make PointsBet feel like your sportsbook home.
How to Start Betting and Enter a Risk-Free Bet?
Create an account by clicking the pink "Sign Up" button in the top right-hand corner of the screen. You'll need to enter your first name, last name, and email to get started. A confirmation email is sent to your inbox, which is required to verify the account. You can also enter a promo code during the sign-up process. PointsBet may by default enter a promo code if there is a promotion that's running.
Once the account is set up click on the menu icon in the top left-hand corner. You can navigate to the sport that you want to bet on and choose the type of bet to place. There are a lot of sports and wager types for you to explore.
App and Mobile – Review of PointsBet Sportsbook App

PointsBet Sportsbook works on both the iOS and Android platforms. Search for the app in each marketplace and you'll find it for download. The download and installation shouldn't take more than a few minutes. The app can be run on smartphones, PCs, and tablets, so choose the device that you love playing on.
The app has an excellent user interface, which means you can comfortably place bets. The large icons and simplified menus ensure the app works well on any smartphone device.
How to Download the Pointsbet Sportsbook App
Android: you'll need to start by registering an account. Once logged in on your Android smartphone click on the "Download for Android" button and you'll start downloading the PointsBetAndroidApp.apk file. Use this file to install PointsBet Sportsbook software.
iOS: Navigate to the iTunes marketplace and search for the app using the keyword "PointsBet Sportsbook". You can use the app to sign up for an account and start betting.
Promo and Bonus Codes – Pointsbet Sportsbook Betting Bonuses
This online betting platform provides attractive bonuses. The welcome bonus that's automatically added to all new accounts offers two risk-free bets up to a value of $200. In case it's not added use the promo code WELCOME. You can try the sports betting website out without risking your own money. You need to make a deposit for this bonus to activate.

Check out the promotion page to view the entire roster of their bonuses and the latest promo codes of PointsBet Sportsbook. The variety of bonuses means punters enjoying most sports on the website can choose the right bonus for them.
What Rewards You Receive for Regular Play
The loyalty program allows you to receive points for placing bets. The more money that's wagered the more points you receive. Some loyalty programs are based on the type of sports you bet on. For example, when you place bets on NFL you can receive money bonuses. Points are also earned with all singles, parlays, and PointsBetting spreads.
Which Type of Wager Are Available on Pointsbet Sportsbook?
Points spreads: it's one of the most common forms of sports betting. Teams and players don't have an equal chance to win – some are better than others. The points spread evens up the chances of winning no matter which side you pick.
Totals: the bettor of total betting is focused on the final score of each game.
Futures: this wagering type refers to events that take place in the future. This might be what position a team will end up in at a league table after all games are played. PointsBet odds allows you to bet on NBA, NHL, NFL, and CFB futures.
Propositions: these type of bets don't have to be related to the outcome of a game. It could be related to any measurable stat. For example, the number of rebounds a particular player gets.
Parlays: this refers to several single bets that add up to make a parlay. The odds of winning parlay bets are usually low, but the high-risk payoffs could be huge.
Teasers: these are bets like parlays but you have more control over the lines that are set.
Round robins: this strategy focuses on reducing the risk while not damaging the potential payoff too much. The format includes placing 3 or more parlay bets that are made up of 3 single bets each.
Banking and Withdrawal Options to Consider

The cash deposit options include Visa, MasterCard, Skrill, Paysafecard, Neteller, Bitcoin, PayPal Paynearme. The minimum deposit is $5 and the maximum is $50,000. The withdrawal options are the same as the deposit. You'll need to withdrawal using the same method as the deposit for security reasons.
The security and privacy technology of each payment processing platform differ. Therefore, you need to investigate for yourself to see what kind of protections are in place. However, if PointsBet Sportsbook has included the payment processing options in their lineup, then it's a safe choice to avoid PointsBet Sportsbook scams.
Advantages and Disadvantages of Playing at Pointsbet Sportsbook
Pros
Good selection of sports to choose from with various bet types. Therefore, you won't get bored trying out new types of bets.
The bonus options and loyalty program add a lot of value to the betting action. You get to try out the website with 2 free bets and receive regular rewards for betting.
Huge payouts are possible when you bet big, so punters looking for a lot of action can join.
Cons
The round-robin and teaser betting selection could be improved. Most of the time they are not available for punters to enjoy.
No deposit bonus not available.
No other games casino games such as roulette.
Conclusion
Overall, the PointsBet Sportsbook Michigan website is a great place to bet on sports along with such names in the industry as DraftKings, FanDuel, and Barstool online sportsbook. The website has a great user interface so finding and placing bets is straightforward. You'll love the variety of sports to bet on and the in-play feature adds a lot of value. The PointsBet promo code is enough to give the online gambling portal a try.
PointsBet Sportsbook is relatively new in Michigan, which means you can expect it to improve in the coming years. It's one of the more exciting new additions to US online sports gambling as you've discovered in this PointsBet review. Also, if you are to try online casino games in MI, do not forget to check PointsBet Michigan casino.
Contacts
You can get in touch with PointsBet via email using [email protected]. Live chat is also possible by navigating to the header and clicking the "Live Chat" button. A live chat box will pop up at the bottom right-hand side of the screen.
FAQ
What States is PointsBet SportsBook betting legal in?

Currently you can play in New Jersey, New York, Illinois, Iowa, Colorado, Michigan, Kansas and Pennsylvania.
Can you bet on PointsBet Sportsbook for free?

You can take advantage of the welcome bonuses, which provides 2 free bets up to $200. You must make a deposit to get access to these free bets.
Is sports gambling legal in Michigan?

Gov Gretchen Whitmer made sports betting legal in Michigan when a bill in late December was signed.
How does PointsBet Sportsbook spread work?

They distribute the points to each side of the bet based on the chances of winning. The idea is to create a bet where both sides have an equal chance to win.
What's the age requirements?

You must be 21 years of age or over. Child protection packages can be downloaded if parents need to prohibit their children from gambling on the website.
Will a credit/debit card work to deposit funs?

Yes, you can use MasterCard or Visa to deposit funds. However, it depends on the financial institution that you are using to pay. Some by default might block payments to gaming and gambling websites.
Who can bet at PointsBet Sportsbook?

You must be 12 years or over, and physically in one of the approved states. It's one of the only Michigan legal sports betting sites.
Written by: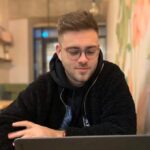 Stewart is an advantage gambler, author of reviews and contributor at Luckymichigan.com. Stewart knows all there is to know about casino games and has written extensively on the topic - his reviews and guides are the perfect answer to all your questions. When he's not playing or writing about casino games, Stewart enjoys spending time with his wife and two young children.