Michigan FanDuel DFS Betting Review
Published: Mar 13, 2023
Updated: May 11, 2023
100% up to $20
Screenshots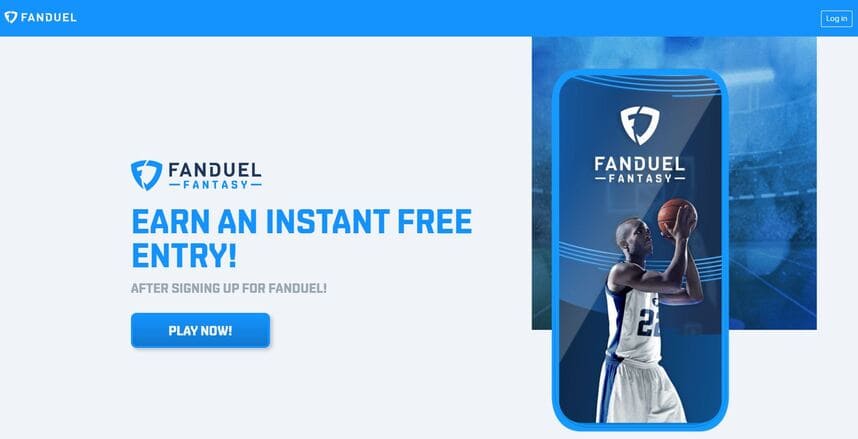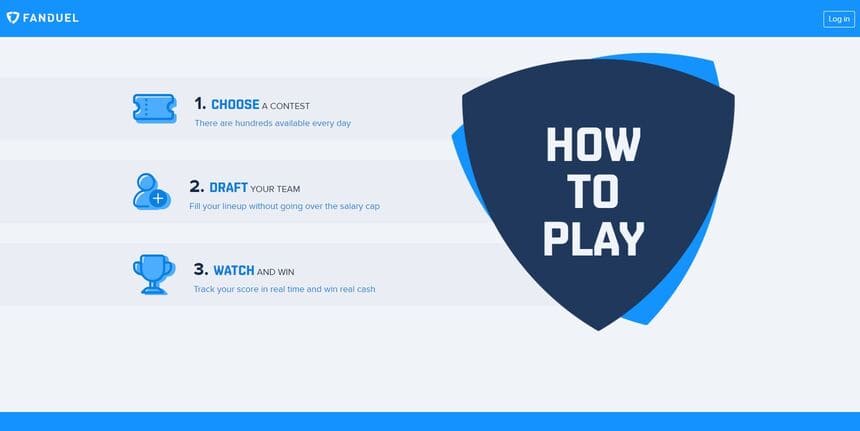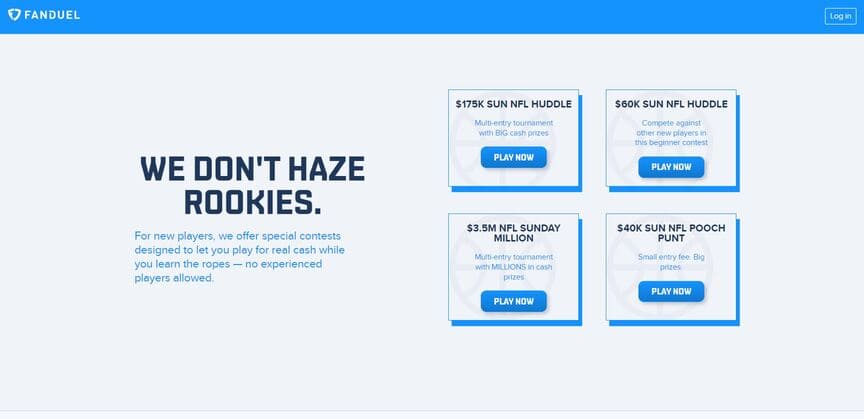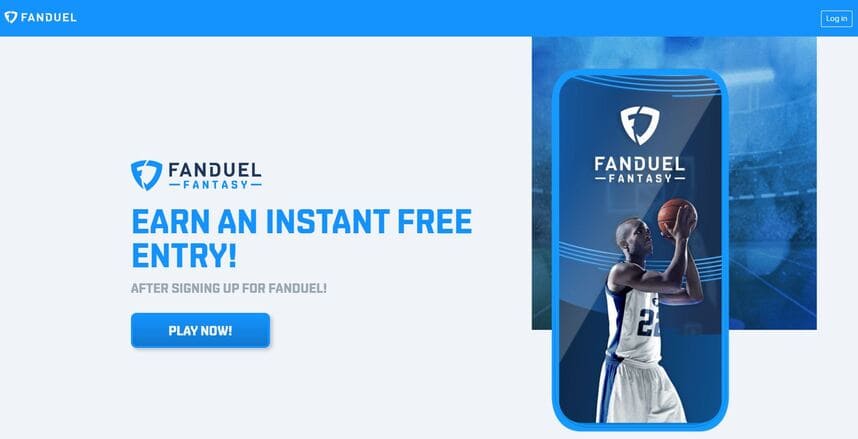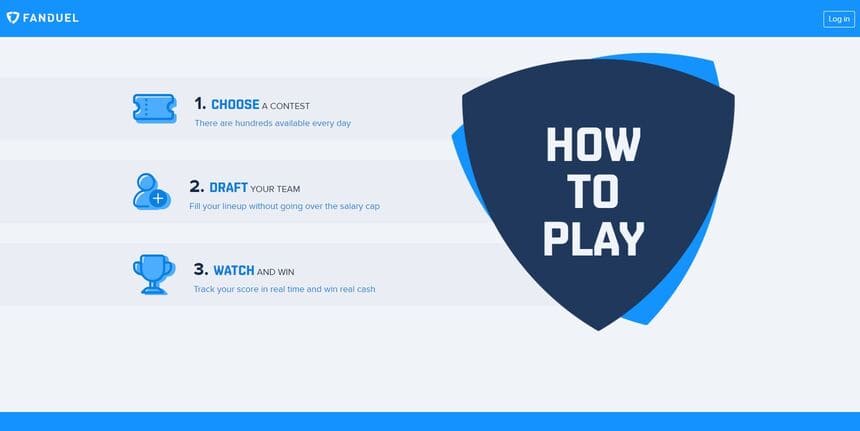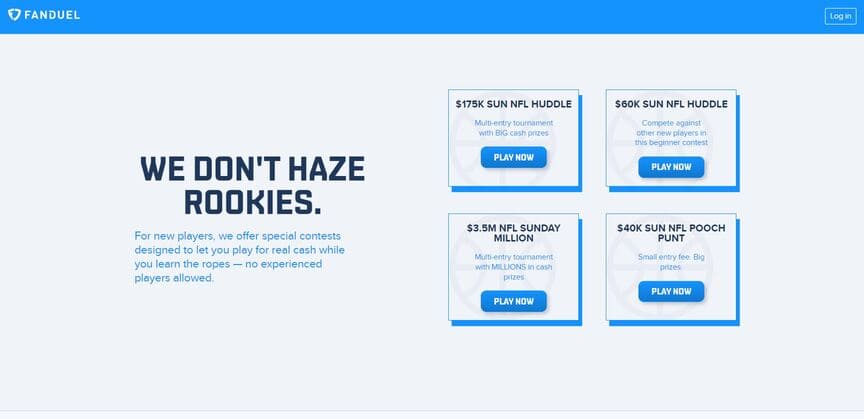 Fantasy games have changed the way sports betting was seen and perceived by fans. Over the years, there has been a hike in the numbers of daily fantasy sports in the country. The DFS market is growing every day, and there are some names that have been ruling since the beginning. FanDuel is one such name that doesn't need any introduction. It is among those first daily fantasy sports online established in the United States. Almost every US state has opened its gate for this DFS platform. The state of Michigan is one among them that has embraced FanDuel, wholeheartedly. Though there are plenty of MI online sportsbooks for DFS bets, FanDuel has a separate and humongous fan following in the state and for all the evident reasons.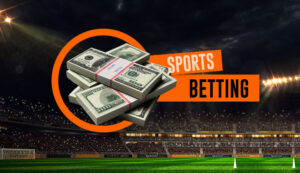 It is rated among the top DFS betting sites in Michigan (such as DraftKings and Monkey Knife Fight DFS) and has been catering to the players' diverse wagering requirements. FanDuel was established back in 2008, and since then, it has steered through the competition and become a prominent name in the DFS market. NFL season is the most favorite time of the year for the FanDuel fans, and the platform records 400,000 lineups each week during the NFL season and gives out more than $10 million in prizes. Many world-renowned investors have come forward to invest in this daily fantasy sports platform. In September, FanDuel managed to bag $70 million in finance from a group powered by NBC Sports. The platform has also partnered with fantasy sport news websites like ESPN, Yahoo, and CBS. FanDuel has also made its way to history by becoming the first DFS site to have partnered with a sports team.
There are plenty of things you need to explore about FanDuel Daily Fantasy Sports in Michigan. In this MI FanDuel DFS review, we have tried to enlist all the important information that will help you make a decision. Let's get started.
How Can You Play on Top DFS Betting Sites in Michigan?
Daily fantasy sports are getting popular each day. More and more sports fans are showing interest in these sites and joining them. When a sports season is about to kickstart, players inclined towards these DFS sites. If you are new to the market, these tips of playing on fantasy sports sites will help you get through-
Spot The Best Site: The most important step is to find the best site that can cater to your requirements. Sign in to the site and deposit a certain amount to the site wallet before starting to play.
Select The Sports: Today, almost every site has included prominent sports seasons and tournaments. The next step is to choose the sports you would like to wager on.
Draft The Team: First, you need to check the salary cap set by the site and then check the points given to each player. Considering the players' statistics, you need to draft a team or prepare a lineup within the salary cap.
Choose The Contest: After preparing the team, the next should be to choose the contest of your choice. Every site has different contests that you can enter.
Win: When the match starts, the performance of your players will increase your points. There will be a leaderboard that will determine your position in the contest.
These are the simple steps that you need to understand before playing. Make sure to check the site's scoring system before drafting the team so that you pick the best players.
The Sweet Bonuses and Rewards To Savour!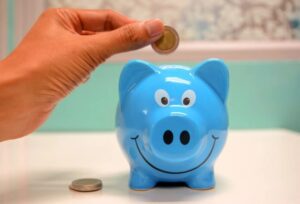 Bonuses are what keep the players coming back for more. The best part about playing on a reputed DFS site is that you will never get out of opportunities to bag bonuses. Here are a few bonuses that you must know about-
Welcome Bonus: When you first sign up at the platform, you will be welcomed with a 100% bonus of up to $20 that you can add to your bet. There are no deposit requirements, but you need to make the first deposit to avail of this bonus.
Deposit Bonus: It is a bonus type that you get when you make your first deposit. There is a $500 free deposit bonus for the new players who make their first deposit. You need to use this bonus within 14 days.
Referral Bonus: Another exciting bonus at FanDuel is the referral bonus. When you refer your friend to the site, you will be given a bonus. Every friend you refer to the site and make a deposit will receive $25 for using your referral code, and you will get $20. You can simply copy the referral link and share it on social media platforms.
FanDuel Players Club: It is a promotion meant for the loyal players of the platform. Those who are consistent on the site are eligible to enter the FanDuel Players Club. For every $1 of entry fees you will play on the site, you will be given 5 FDP points. The more you play, the more points you will bag.
FanDuel Training Camps: It is a unique initiative started by the platform. Those who have just started playing fantasy sports or choosing a different sport can enroll in this training camp. Here you can learn the basics of strategies, roster construction, and choosing contests.
Type of Sports You Can Expect on FanDuel DFS Betting
Here are the top sports you will see on the platform:
NFL: National Football Association is an American football championship that comprises 32 teams divided in the National Football Conference and American Football Conference.
MLB: Just like NFL, MLB, or Major League Baseball that is made with 30 teams in the Major League and 15 teams in the National League.
CFB: CFB or College Football is a popular championship in America that is played by athletes from American colleges, universities, and military academies. Due to the COVID pandemic, CFB was canceled this year.
PGA: Professional Golfer's Association of America is an organization that conducts golf tournaments across the country. PGS Tours are about to begin from October 8th to 11th 2020.
NASCAR: National Association For Stock Car Auto Racing is an auto racing championship based in America. It is a popular car racing championship that fantasy players are keen to play on.
EPL: Often referred to as the Premier League, English Premier League is a football system based in America that comprises 20 different clubs.
Contests at Fanduel Mobile Wagering That Are Worth the Penny
Contests are the things that make fantasy sports sites worth visiting. It is important to know about the contest before you sign up at a platform. Here are the best contests you can find at FanDuel-
Heads-Up: It is a one-on-one contest where you compete against a single player. You both will be given an opportunity to create lineups, and the winner will take away the entire prize amount.
Guaranteed Prize Pool: Prize pool is a popular contest at fantasy sports sites. FanDuel also has a guaranteed prize pool, which is stated right before the match and hike up the players' excitement.
50/50: Just like the name suggests, the top half of the winners registered in this contest are given double the tournament's entry fees. Players can join in any number.
Multipliers: It is as straightforward as it may sound. Players who participate in it are given the percentage of their entry fee, which is generally 2x, 3x, or 5x.
Beat The Score: The players who enter this particular contest need to reach a given score threshold to win the prize pool's equal share.
It is important to learn about each contest and determine the ideal one that can provide you with maximum benefits in a given tournament. Your winnings are totally dependent on the type of contest you choose to play on. So make sure you make a wise decision.
What Do You Need to Know About the Mobile Experience?
The developers have done a great job of making this site highly compatible on mobile. The platform has a dedicated app that you can download on your smart devices and play on the go. Even the mobile site is also highly intuitive and easy to create lineups. The app is available for both Android and iOS users, and it has received ample positive reviews from the players.
Safe and Secure Payment Options

Another feather on the cap is the safest payment option provided by the platform. Both deposits and withdrawals are safe and seamless on the site. You can make deposits via credit cards, FanDuel Prepaid Card, PayPal, ACH, online transfer, PayNearMe, and check. For withdrawals, you can make use of the FanDuel Prepaid Card, ACH, Check, and PayPal. The withdrawals might take 3-5 business days to reflect on your account.
Round the Clock Customer Support
The customers' services on this site are certainly commendable. There are four different ways to contact the customer support team with any concerns:
Live Chat: You can access it from the bottom of the page
Email: Mail the team and get an instant reply
Phone: Call them directly to get your query resolved
Mailbox: You can either use the traditional letter mailing to get answers.
The Bottom Line of FanDuel Fantasy Review
FanDuel is a magnificent daily fantasy sports site that doesn't need to pitch itself; those who are well versed with the industry already know its prominence. Since its inception, the platform has been doing a great job. From the tempting bonuses, a wide range of sports availability, to exciting contests, and safe payment methods, everything about this betting site is worth every penny. Michigan's daily fantasy sports betting market has been highly popular in the last few years, and this platform has a lot to contribute to it.
This Michigan FanDuel DFS online review has highlighted this amazing fantasy site's major attractions that are conquering new milestones every day. It is one of those sites that has provided adequate fantasy sports wagering services to the fans and allowed them to earn big.
This daily fantasy sports site can provide you with a lot of benefits if you know how to make optimal use of it.
Frequently Asked Questions
Is FanDuel DFS legal in Michigan?

Yes, you can legally play on this daily fantasy sports platform. You need to be at least 21 years old in order to start wagering on the platform.
How to download an app for FanDuel DFS in Michigan?

The platform has also provided a dedicated app for the players to play on the go. You can either visit FanDuel DFS directly in MI to get the download link or visit the app store to find the app. The developers have made the app extremely intuitive and easy-to-navigate for the players.
How can I know FanDuel DFS is safe?

FanDuel is among the first established daily fantasy sports sites in the country that has been legalized by the gambling commission. For years, this platform has carved a credible reputation in the market that is certainly unparalleled. Even the makers have made the payment methods highly safe for the wagerers.
Can I win real money on FanDuel DFS?

All the contests at this platform are real money contests, which means you will get real cash rewards when you take part in them. You just need to spot the high-yielding contest that can provide you better rewards. Make sure to draft a powerful team after ascertaining the players' statistics.
What contests are available on FanDuel DFS in Michigan?

This daily fantasy sports site is better known for its variety of intriguing and high rewarding contests. Beat The Score, Head-to-Head, 50/50, Leagues, Guaranteed Prize Pools, and Multipliers are some of the best contests available here.
Written by: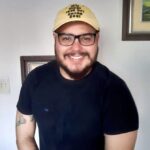 Andy is a skilled recreational gambler for more than 11 years. His primary focus is on the regulated US online casino and poker markets. Editor-In-Chief at Luckymichigan.com.