WynnBET MI Sportsbook Review
Published: Apr 5, 2023
Updated: May 11, 2023
100% up to $1000
Pros
+

Enticing new user promo
+

User-friendly app interface
+

Multiple deposit and withdrawal options
Cons
⨯

A limited number of sports you can bet on
⨯

Can't make deposits with cryptocurrency
⨯

48-hour requirement for making withdrawals
Screenshots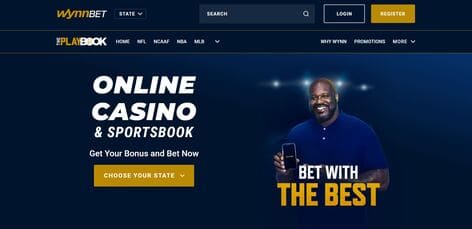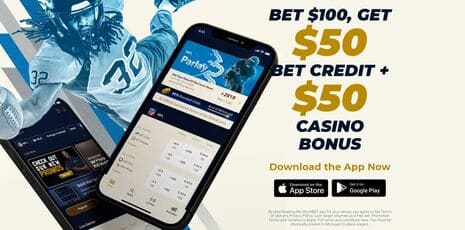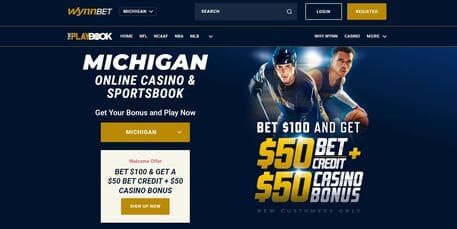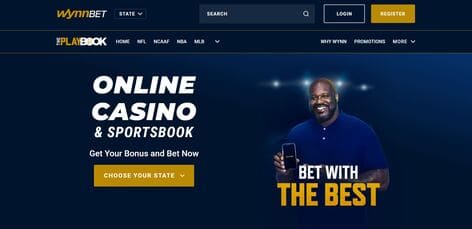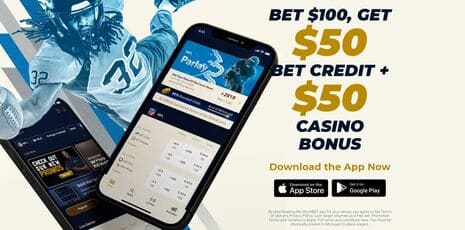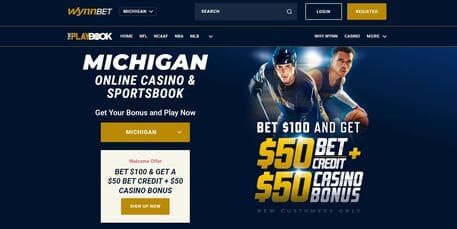 As one of America's newest online casinos, WynnBET has already made a name for its excellent services and rich interface. The website offers a massive range of sports betting and casino games. The online sportsbook extends its services to seven significant states in the US, including Michigan.
A WynnBET account offers one of the most thrilling gambling experiences with various sports and competitive odds. These include significant sports competitions within and outside of the US.
This post offers a WynnBET sportsbook review for players in Michigan. It'll cover WynnBET promo codes, welcome bonuses, and ongoing promotions. We'll also check out the types of bets in the WynnBET online sportsbook.
A WynnBET Sportsbook Review
While the sportsbook has only been active since 2020, it raised the bar significantly with its WynnBET sportsbook app. Its easy-to-use app interface and sports betting options are why more Michigan sports bettors flock to the site regularly.
The WynnBET sportsbook MI can easily leave older sportsbooks in the dust. It offers a much better experience in terms of gaming options and betting markets.
Having gained significant experience in gaming structure from its parent company, Wynn Resorts, the sportsbook has begun partnering with franchises across the sports industry. It offers a massive range of gaming options, such as:
NFL Football
Premier League, LaLiga, Ligue 1, etc Soccer
MLB Baseball
IndyCar
F1
NBA Basketball
Cricket
Golf (PGA Tour)
NASCAR
Boxing
WynnBET MI Sportsbook Promo Codes 2023
While WynnBET offers a host of promotions to its players, there could be instances where promo codes come in handy.
Perhaps one of the most useful promo codes in the WynnBET online sportsbook is the XACTIONBET. The $100 in this promotion is split into two $50 bets. You need to have minimum odds of -120 to qualify for this promotion. Remember that all those using this code will receive their bonuses as $50 in sports bonus and $50 in casino bonus.
Avail of the WynnBET Welcome Bonus
The exclusive online betting offers in the WynnBET sportsbook include rich welcome bonuses to its new players.
A welcome bonus is a gift that online gambling platforms give new players as a token of their appreciation for signing up. So, when you sign up with WynnBET, you be given extra money to play with once you make the initial deposit.
If you are interested in other welcome promotions, check out these reviews of DraftKings Sportsbook and AmWager Sportsbook.
Regarding the WynnBET Michigan bonus code, new players get a $1,000 risk-free bet. However, as a player, you must make an initial deposit of $20 to get this bonus. Remember that the bet must also be placed within ten days of your initial $20 deposit. You must also meet certain criteria set by the sportsbook. For example, according to WynnBET's House Rules, you must be above the age of 21 and should not be prohibited under Michigan's betting regulations, such as section 432. 403.
In case you lose your first bet, you are credited with a free-of-charge bet. This must also be used within ten days. New players can also leverage a 100% deposit match bonus offer at WynnBET's casino. All you need to do is open a WynnBET account, head to the promotions page in the sportsbook, and opt for the Bet $100, Get $100 welcome bonus promotion.
Ongoing Promotions at WynnBET
Besides the welcome bonus for new players, the WynnBET MI sportsbook has numerous promotional offers and Wynn Rewards for its existing players. Players can enjoy:
Parlay Boosters – These are offered every matchday via the app's comprehensive parlay bonus list feature.
Event Offers – Try these on occasions like the Super Bowl or national anniversaries like Christmas or the 4th of July.
Spin The Wheel – Wynn bettors relieve chips for every losing bet they place and use them to spin the Wynn bonus wheel. Prizes include betting insurance, odd boosts, and retail gifts.
Some offers, like daily odds and parlay boost, change daily depending on the ongoing sporting season. So, it's worth digging around the sportsbook to find these offers, as they can increase your payout by as much as 30%.
More About WynnRewards
WynnBET's tiered loyalty program offers players the finest rewards. All WynnBET patrons are now a part of the rewards system. The program is divided into three tiers: Red, Platinum, and Black. Here are just some of the benefits you stand to gain from this program:
Earn FREECredit while playing select casino games and placing bets on games;
Earn COMPDollars that can be redeemed at Encore Las Vegas, Wynn, and Encore Boston Harbor;
Priority slot services at Encore Las Vegas, Wynn, and Encore Boston Harbor;
Personal casino host.
Creating a WynnBET Account in Michigan
If you're a new player looking to create an account with WynnBET, all you need to do is sign up with these simple steps. Begin by opening the WynnBET MI app or website and clicking "register." Then, do the following:
Enter your email, and create a username and password.
Next, you'll be required to enter personal details: name, birth date, contact information, and the last four digits of your Social Security number, and answer two security questions.
The final stage of the registration process requires your home address, and then all you need to do is check a few verification boxes. Lastly, click on "Complete Registration."
That's it. You're good to go. Once WynnBET sportsbook approves your sign-up request, your account gets activated, and you can make your initial deposit.
WynnBET Sportsbook App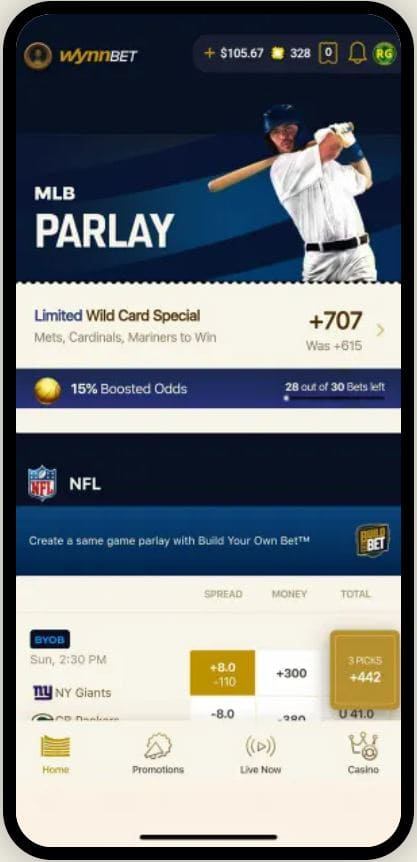 The WynnBET app works flawlessly. It's very well-designed and easy to use. The app works seamlessly, loading times are short, and locating the game or event you're searching for is simple.
Players fare much better when accessing their account using the WynnBET app. It's recommended to use the app over the main site because it is available on both Google Play and the Apple Store for Android and iOS devices.
If you're trying to choose which sportsbook app is best for you, here are two of the best WynnBET app features:
Customer Support: WynnBET has a great FAQ page to help answer your questions, but if that doesn't work, you can call, email, or start a live chat with a Wynn representative.
Easy-to-use app: Betting on sports using your smartphone is good only if your app is fast and smooth. WynnBET isn't flashy, but it works well, and that's all that matters.
Download the WynnBET Michigan App
Let's see how you can download the WynnBET app on your iPhone or Android device.
Android Version
To install the software on your Android phone, go to Settings > Security > Unknown Source.
On the WynnBet website, select the Download for Android icon, and you're done!
iOS Version
Search for WynnBet Sportsbook in the iTunes Apple Store and press download once you locate the one with the right branding. Install it, et voila!
How to Bet Using the WynnBET App
The wagering procedure at the WynnBET app sportsbook is identical to any other online sportsbook. The only variation is their odds for each sporting event or activity.
To wager using the WynnBET app, you must first select an event.
Then, select a betting market where you want to gamble.
Select the sort of bet you want to make.
Learn about the probabilities.
Put down the sum you're prepared to bet on a particular event, squad, or player.
Your wager slip, which displays your current odds, is on the right side of the screen.
Types of Bets Available on WynnBET Online Sportsbook
One of the best parts of playing on the WynnBET website is that bettors have many bet types. Let's check some of these out:
Moneyline: These wagers are the simplest ones you'll find. To win a moneyline bet, you only need to place a bet on whichever player/ team you think will win.
Point spread: These are slightly more complicated than moneyline as you need to determine the margin of victory.
Over/under: These are another extremely common wager. For an over/under, you need to bet on how many points both teams will score (combined).
Parlays: You create a parlay by combining any of the two or more bet types above. Players favor these as they tend to pay off big. However, you must get every element correct to win.
Teasers: These are another type of combo players employ. Teasers involve combining multiple spread bets. Then all you need to do is change the lines in your favor for all your selections by the same amount of points.
Round Robin: The final type of group betting involves players forming three or more picks. Next, the WynnBET app groups them so players can miss a selection and still make money.
Live betting: This is the most rapidly growing way of betting on sports. With this type of betting, players can wager on games already in session. This lets them benefit from seeing how a team/ player looks during the first few minutes.
Sports You Can Bet on at WynnBET Michigan
Casino and legal sports betting in Michigan is bustling. There are a ton of major pro and college sports that players can bet on, including top US sports leagues, including the NFL, NB, NHL, UFC, MLB, and NCAA basketball and football.
The WynnBET sportsbook also offers tennis and golf markets and soccer betting. This is all in addition to boxing betting markets. There is also speculation that Australian Rules football may be added to the mix.
Here are a few Michigan teams you can bet on:
Detroit Lions (NFL)
Detroit Red Wings (NHL)
Detroit Pistons (NBA)
Detroit Tigers (MLB)
Michigan State Spartans (NCAA)
Michigan Wolverines (NCAA)
Eastern Michigan Eagles (NCAA)
Central Michigan Chippewas (NCAA)
Detroit Mercy Titans (NCAA)
Placing Bets With WynnBET Sportsbook MI
Betting on the WynnBET online Sportsbook application is a quick and easy procedure that requires only a few seconds. When you discover a wager you like, click on it to submit it to your betting slip. When you do, a golden box will show in the bottom right corner of your screen, indicating the number of wagers on your slip and the overall odds.
Add all the wagers you want to include to make a combination, teaser, or round-robin. If you've made single or numerous bets, click on the gold box to view your wager slip.
You can now see what wagers you have and what kinds of bets you can place. When adding the amount you want to wager, you have two options. You can input the amount you are interested in betting or want to earn. Whatever you choose, it is obvious what your wager is and what you stand to gain.
The last stage is to select "place bet." Your bet is placed as soon as you do this, so always double-check beforehand to ensure accuracy.
Tips and Tricks to Place Bets on WynnBET
Drag the bet slip box to the right, middle, or left of the screen, depending on your preference.
When your slip is opened, remove a bet by dragging it to the left, and a red box reading "delete" comes up. Click on this box to remove the bet from your slip.
How to Make Deposits and Cash Out on the App
Currently, WynnBET has quite a limited number of options for withdrawing or making deposits via the app or website. Here are some options:
You can deposit money into your account through a Visa, Mastercard debit, or credit card. The other options are the WynnBET Play+ prepaid card and an e-check.
You can apply the same methods as e-checks or loading your funds back onto your WynnBET Play+ card to withdraw your winnings.
You can use these credit and debit cards on WynnBET:
Bank of America
Santander
Huntington Bank
Union Bank
JP Morgan Chase
Capital One
Most prepaid cards
You can also use PayPal for withdrawals and deposits. Players aren't restricted from claiming the WynnBET bonus if they opt for PayPal as a deposit method.
How to Contact WynnBET Customer Support
One of the things that players love about this site is its diligent customer service. WynnBET's client support is available for live chat 24/7. You can access this through their website or app.
In addition to all this, you can also call WynnBET's help desk at 844-745-0948. You can contact a representative on this line from 10 AM to 8 PM daily. Players can also get in touch with customer support via email– [email protected].
If nothing else works, review the FAQs section to see if you can troubleshoot the problem independently.
Responsible Gambling at WynnBET Sportsbook
Wynn Sports is committed to providing you with a safe environment to play. Responsible gambling means taking frequent breaks, not relying on gambling as a source of income, and setting limits on yourself.
If a player's gambling is getting out of hand, the website reserves the right to remove them from promotional emails and revoke their casino-specific privileges.
FAQs
Is WynnBET Sportsbook in Michigan legit?

Of course! WynnBET online sportsbook is legit. It obtained a sports wagering license front the Michigan Gaming Control Board. This is a regulatory body that governs online gambling platforms and retail casinos in the state of Michigan.
Can I use WynnBET outside of Michigan?

The online sportsbook is available in numerous states other than Michigan. These include Arizona, Indiana, Colorado, New Jersey, Louisiana, New York, and Virginia.
Am I allowed to bet on the Michigan Wolverines at WynnBET?

Sure you can. Players can bet on any Michigan-based college teams using the WynnBET app. These include the Wolverines and Michigan State Spartans. However, remember that prop bets on college athletes are not allowed.
Where is the WynnBET retail sportsbook?

Betting markets where you can find the WynnaBET retail sportsbook include Michigan, Colorado, Tennessee, Virginia, New Jersey, and Indiana.
How Do Bettors Get Paid Winnings From WynnBet?

Players enjoy many withdrawal options, including PayPal, a Play+ card, VIP Preferred Debit/ Credit card, or an e-check.
Written by: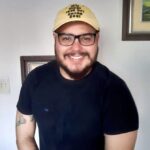 Andy is a skilled recreational gambler for more than 11 years. His primary focus is on the regulated US online casino and poker markets. Editor-In-Chief at Luckymichigan.com.